Shops, vehicles burnt in Rajasthan's Pali in riot following religious procession
Published on Mar 31, 2018 10:01 PM IST
Religious procession passing through minority area attacked after a heated argument over 'objectionable' slogans.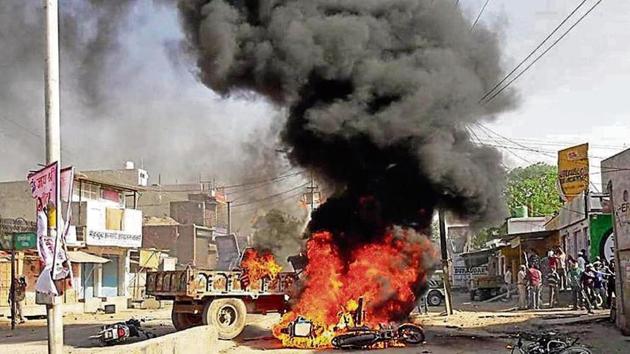 Communal tension spread to Rajasthan's Pali district on Saturday as stones were thrown at a procession taken out to mark Hanuman Jayanti, the police said. Several people were injured and shops and vehicles set on fire, the police said.
Prohibitory orders were imposed in Jaitaran town, located on the Jaipur-Jodhpur highway, about 240km from the state capital, barring the assembly of five or more people.
No arrests were made. The police were trying to identify the trouble-makers through closed circuit television footage.
The religious procession was passing through a minority-dominated area when it came under attack from stone throwers after a heated argument over "objectionable" slogans shouted by some participants.
NRK Reddy, additional director general (law and order), said a bus, a bike and some 20 shops had been burnt, citing initial reports. He said the riot took place around 4.30 pm when the procession was passing through a market. "There was some sloganeering by those in the procession which was objected to by members of the minority community. Following the altercation, some persons pelted stones at the procession. Those in the procession retaliated and violence broke out," said Reddy.
He said senior police officials including the superintendent of police and inspector general of police reached the location and brought the situation under control. "About four to five civilians and as many policemen have been injured. For now we have instructed our forces to push people back into their homes. Later at night we'll start picking up troublemakers," said Reddy.
An eyewitness, on condition of anonymity, said the stone throwing and arson lasted for about half an hour before Rajasthan Armed Constabulary (RAC) personnel arrived and brought the situation under control. He said several civilians and policemen were injured and more than a dozen shops set on fire while four buses were burnt and a dozen two-wheelers gutted.
"There was panic and shopkeepers downed their shutters," he added. In the last fortnight, communal clashes of similar nature have been reported from Bundi and Tonk districts.
In Bundi, a procession was attacked with stones on the occasion of Ram Navami on March 25. The next day, Hindu groups organized a Bundi bandh (shutdown) demanding the arrest of the troublemakers. Police arrested 15 people rom both communities for stone throwing and organizing protests. In Tonk, stones were thrown at a procession being taken out on the occasion of the Hindu New Year on March 18. Eleven people, including three policemen, were injured. Six persons from both communities were arrested for the violence.