Sikkim CM Pawan Chamling backs Gorkhaland movement
The agitation for a separate Gorkhaland state in the Darjeeling hills got a shot in the arm with Sikkim chief minister publicly backing the statehood demand.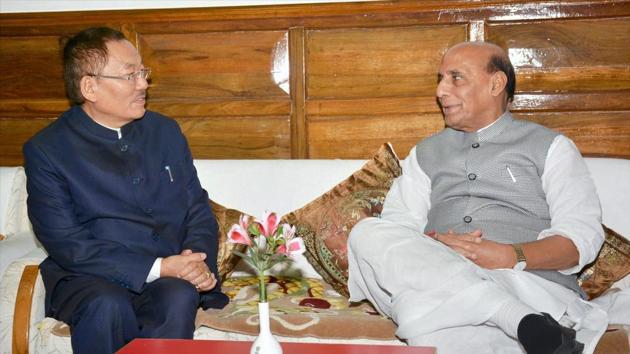 Published on Jun 22, 2017 04:56 PM IST
Hindustan Times, Kolkata | By Snigdhendu Bhatttacharya
Sikkim chief minister Pawan Chamling has queered the pitch for his Bengal counterpart Mamata Banerjee by offering support to the demand for a separate state of Gorkhaland.
Chamling, who has been in power in Sikkim for nearly 23 years, wrote a letter to Union home minister Rajnath Singh on June 20 (Tuesday) and on Thursday, posted the letter on his Facebook page.
"We all are aware that Sikkim and Darjeeling share a very close bond with similarities of language, culture, tradition, caste, food habits etc. As immediate neighbours, we Sikkimese, wish them well forever… We have always been there for the people of Darjeeling Hills in times of need and we reiterate that they have our all-out support for the demand of separate state of Gorkhaland," the 66-year-old politician wrote in his post. It was shared by about 1,100 people in the first three hours.
"The past three uproarious decades of agitation for the statehood demand in the neighbouring hills has claimed more than 1,000 lives and caused incalculable loss of property and constant threat to security of life," Chamling wrote to Rajnath Singh. "The fulfillment of the constitutional demand of the people of the Darjeeling hills, which is deeply connected with the national identity of the Indian Gorkhas, will provide long-awaited justice to their patriotism," he added. "Creation of Gorkhaland state will also restore permanent peace and prosperity in the region and Sikkim will be hugely benefitted," he added.
Chamling's support to the Gorkhaland movement is likely to add to Banerjee's headaches. The Bengal government is aware that activists of the Gorkha Janmukti Morcha and other hill parties have unhindered access to Sikkim from where they can get logistic support. This will only prolong the agitation.
Read more: Darjeeling unrest: Gurung in hiding, police fear arrest may fan violence
The erstwhile Jyoti Basu government had also faced the same situation in the mid-80s when Gorkha National Liberation Front headed by Subash Ghising carried out an armed struggle that led to the death of 1200 people. Most of the GNLF leaders wanted in connection with attacks and arsons in Darjeeling used to take shelter in Sikkim where they found sympathisers.
Over the past one week, Sikkim has witnessed a series of rallies where people expressed solidarity with the Gorkhaland movement.
Trinamool Congress did not take Chamling's stance in good humour. "I hope other states will react responsibly to issues relating to our state," Trinamool Congress secretary general and education minister Partha Chatterjee said in Siliguri.
Political parties in the Darjeeling hills welcomed Chamling's letter to the Union home minister. "Any support is important but support from Sikkim is all the more important because we are immediate neighbours," Jan Andolan Party chief Harka Bahadur Chhetri, a former MLA from Kalimpong, told HT.
Chamling also argued in his letter to Singh that disturbances in the Darjeeling hills result in blockade on the landlocked hill state's only lifeline, NH 10, and prolonged blockade could lead to security concerns since Sikkim shares international borders with China, Nepal and Bhutan.
Close Story