Smelly bomb planned to douse protests doesn't raise a stink
Updated on Jul 27, 2017 09:44 AM IST
Bombs that smell like sewage didn't meet the CRPF standards. Officials say the liquid used in the bomb is harmless and the protesters would manage to tolerate the smell without much difficulty.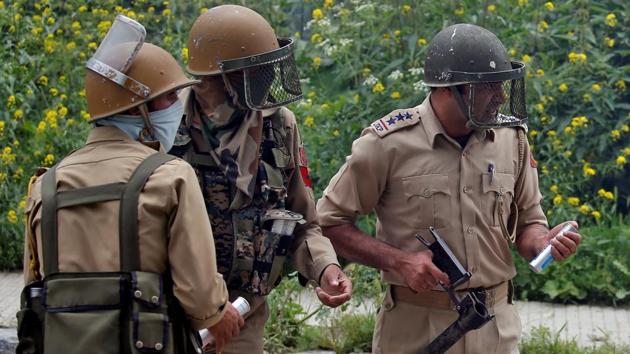 A bomb that smells like sewage and was intended to be used on protesters in Kashmir and elsewhere has been found to be a dud. Reason: the "high threshold of Indians to tolerate stench".
Israeli security forces have been using the bomb on Palestinian protesters through water cannons since 2008, but it didn't meet the standards of the Central Reserve Police Force (CRPF).
"It is called Skunk and is in liquid form. It can be mixed with water for spraying on mobs," said a senior CRPF official who didn't want to be named because he isn't authorised to speak to the media.
"The CRPF decided to test a few samples of the Israeli product a few months back. Tests were conducted and the stink bomb was found ineffective." The tests were carried out in Delhi.
The official said the liquid used in the bomb is harmless. "Those who can ignore smell can drink the liquid also," said the official who has seen a report of the test.
The bomb's smell takes days to fade even after showers.
"We used it on a captive crowd… consisting of CRPF personnel and general public. But they managed to tolerate the smell without much difficulty. Maybe Indians have a higher threshold of tolerating stench," said another official who was part of the team which tested the bomb.
Asked for a comment, CRPF director general RR Bhatnagar told Hindustan Times: "We do not share reports such tests."
CRPF is searching for non-lethal methods to control mobs in Jammu and Kashmir and elsewhere in the country.
Security forces in Kashmir used pellet guns on protesters in Kashmir after militant commander Burhan Wani was killed in an encounter on July 8 last year, but the small metal balls in the weapons injured people and blinded many.
The government then decided to look for alternative measures to control protesters, like using shells made of an organic compound found in natural chilli and deflectors fitted on pellet guns to avoid injuries to the upper body.
Close Story
Personalise your news feed. Follow trending topics