Statue row: Bengal intellectuals urge Kovind to take 'strongest action' against Tripura guv
Prominent Bengal intellectuals such as Shirshendu Mukhopadhyay, Nabanita Deb Sen, Goutam Ghosh and others made the plea in a letter to President Ramnath Kovind.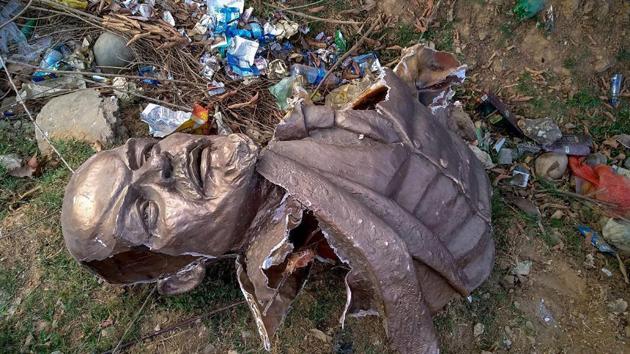 Updated on Mar 10, 2018 08:12 PM IST
Prominent Bengali intellectuals urged President Ramnath Kovind on Friday to take the "strongest possible action" against Tripura governor Tathagata Roy for "sparking tension" with his tweets on the demolition of a Lenin statue in the state.
"Roy's message has sparked tension all over the country, including Tripura, and you can see that for yourself. Unfortunately, instead of carrying out his constitutional duties, he is instigating violence and supporting those," the luminaries wrote in a letter to the President.
The signatories — writers Shirshendu Mukhopadhyay, Nabanita Deb Sen, thespian Manoj Mitra, filmmaker Goutam Ghosh, poet Joy Goswami, singers Swagatalaxmi Dasgupta, Lopamudra Mitra and Pratul Mukhopadhyay, painter Suvaprasanna, human rights activist Sujato Bhadra and purana expert Nrishimha Prasad Bhaduri — demanded the "strongest constitutional measures against the Tripura governor at the earliest".
Responding to the letter, Tripura governor Roy alleged in a tweet on Friday night that the celebrated personalities were under political pressure to sign the letter.
"Shirshendu, Naboneeta and a few others have written to the hon'ble President for action against me for my tweets. But when quizzed on ABP-Ananda, Shirshendu's evasive answers showed it was written by someone else and he was forced to sign on it. No prizes for guessing who," Roy tweeted.
Bhaduri and Bhadra said the letter was drafted following consultation between signatories.
The Tripura governor, who describes himself as a 'Right-wing Hindu socio-political thinker and writer' on Twitter, posted a series of tweets on March 5, 6 and 7 on the controversy around the pulling down of a Lenin statue in Tripura, soon after the BJP toppled the Left regime of 25 years in the state.
"What one democratically elected government can do, another democratically elected government can undo. And vice versa," Roy tweeted on March 5.
A tweet that followed said, "From the telephone calls I receive, it appears that a concerted and motivated campaign is afoot to spread a canard that murder and mayhem have broken out in Tripura. Nonsense! Even the uprooting of the statue has not precipitated any breach of peace."
Unperturbed with the criticism his tweets started drawing from different parts of the country, Roy said on March 7, "I am advised that pulling down statues (Lenin's or anyone else's), unless done by lawfully empowered authorities, qualify as 'Mischief' under Indian Penal Code. They are bailable and non-cognizable offences. Trying to blow them up to something like rioting or murder is unwarranted."
Close Story