Taliban coup will lead to pariah state: Blinken
Updated on Jul 29, 2021 04:36 AM IST
External affairs minister S Jaishankar and secretary of state Antony Blinken said after their meeting that both sides had agreed negotiations were the only way to create a lasting solution.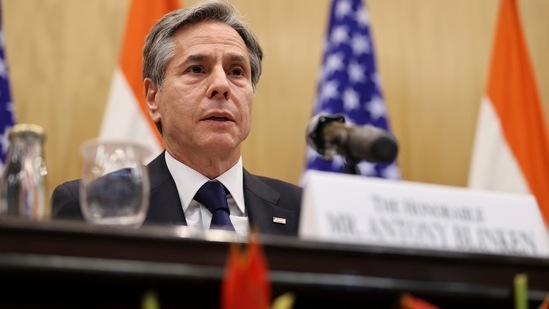 India and the US on Wednesday made a concerted push for immediate intra-Afghan negotiations to end the violence in Afghanistan, and find a political settlement that ensures the country doesn't become a base for terrorists or pose a threat to regional stability.
External affairs minister S Jaishankar and secretary of state Antony Blinken said after their meeting that both sides had agreed negotiations were the only way to create a lasting solution. Blinken referred to atrocities committed by the Taliban in areas the group had taken over and said an Afghanistan that didn't respect the rights of its people would become a "pariah state".
Addressing a joint media interaction, Blinken and Jaishankar outlined plans for future cooperation in the fight against Covid-19 and post-pandemic recovery – including an additional outlay of $25 million by the US to support India's vaccination programme – and defended their collaboration under the Quadrilateral Security Dialogue, or Quad, in the face of China's strong criticism of the grouping.
Blinken, the third senior leader of the Biden administration to visit India this year after defence secretary Lloyd Austin and special representative for climate action John Kerry, also met Prime Minister Narendra Modi and national security adviser Ajit Doval.
Modi expressed appreciation for Biden administration's initiatives related to the Quad, Covid-19 and climate change. He said the societies of the US and India share a deep commitment to the values of democracy, freedom and liberty, and noted the bilateral strategic partnership will be of even greater global significance in the coming years in the context of economic recovery and climate action.
Blinken and Modi also discussed regional challenges and a growing range of cooperation on Covid-19 response efforts, shared values and democratic principles, and regional security, including through the Quad consultations, the US state department said.
Jaishankar said there was "much more convergence" between India and the US on finding a lasting settlement in Afghanistan that takes into account the country's diversity. The world wants an Afghanistan at "peace with itself and with its neighbours", but the country's independence and sovereignty will "only be ensured if it is free from malign influences", he said.
An "unilateral imposition of will by any party...can never lead to stability" and such efforts cannot acquire legitimacy, Jaishankar said. Stressing the need to preserve gains made by Afghanistan in the past two decades in terms of human rights and social freedoms, he added: "Afghanistan must neither be home to terrorism nor a source of refugees."
Blinken said: "We're both committed to the proposition that there is no military solution to the conflict that afflicts Afghanistan. There has to be a peaceful resolution which requires the Taliban and the Afghan government to come to the table, and we both agree...that any future government in Afghanistan has to be inclusive and fully representative of the Afghan people."
The Taliban is seeking international recognition and wants its leaders to be able to travel freely in the world after sanctions are lifted, but taking over Afghanistan by force is not the path to achieve such objectives, Blinken said. "And ultimately, an Afghanistan that does not respect the rights of its people, an Afghanistan that commits atrocities against its own people, would become a pariah state."
The remarks came against the backdrop of a fierce campaign by the Taliban to capture swathes of rural areas and crucial border crossings, and reports of killings and other atrocities in districts taken over by the group. India also has concerns about thousands of terrorists from Pakistan-based groups fighting alongside the Taliban.
Jaishankar said it was inevitable that the drawdown of US forces would have consequences and countries in the region will have to deal with the situation. Without naming Pakistan, he said there was an exception among Afghanistan's neighbours who had reached a broad consensus on the need for a political settlement. "I grant you not everybody who agrees does what they say they would do. I noted the exception that you have pointed out too. But I think that is the reality, this is not new. That is the reality over the last 30 years," Jaishankar said.
Both Blinken and Jaishankar strongly defended the Quad, saying it was a group of four like-minded countries working collectively to ensure a free and open Indo-Pacific region that is not directed against any nation. Blinken said the Quad was collaborating on issues that impact people in the region, including Covid-19 vaccines, post-pandemic economic recovery, climate crisis, and maritime security and infrastructure.
"What the Quad is not is a military alliance, it is not that. Its purpose is...just to advance cooperation on regional challenges while reinforcing international rules and values that we believe together underpin peace, prosperity and stability in the region," Blinken said.
Jaishankar added that India's interests went far beyond its borders, including trade partners and routes in the Indian and Pacific Oceans, at a time when rebalancing was underway to tackle new global challenges.
On Covid-19 cooperation, Blinken acknowledged the responsiveness of the Biden administration in keeping raw materials supply chain open for vaccine production in India and support during the second wave of infections. "We focused today on expanding vaccine production to make it globally affordable and accessible. We also discussed travel challenges resulting from Covid," he said.
Blinken noted the US has contributed more than $200 million to India for Covid-19 relief and announced an additional outlay of $25 million to support vaccination efforts across the country. This will strengthen vaccine supply chain logistics, addressing misinformation and vaccine hesitancy, and help train health care workers.
Former ambassador Rajiv Bhatia said Blinken's visit is "set to contribute significantly to consolidation of India-US relations and deepen multifaceted cooperation within the Quad, a force of stability and hope in the Indo-Pacific".
Personalise your news feed. Follow trending topics