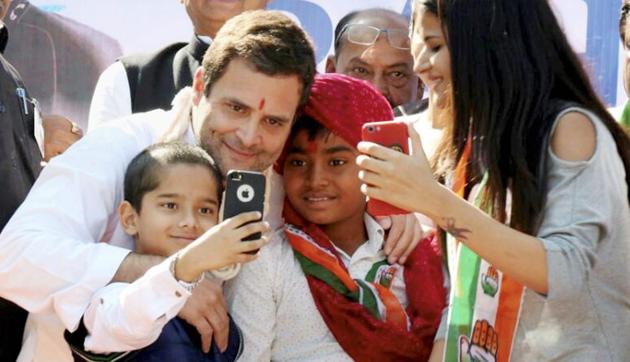 Temple run, corner meetings, rallies: How Rahul Gandhi fashioned his Gujarat campaign
Gujarat assembly elections 2017: Congress president-elect Rahul Gandhi made 26 temple visits and held 150 meetings during his 22 days in the state.
UPDATED ON DEC 14, 2017 07:36 AM IST
Congress president-elect Rahul Gandhi led the party's election campaign from the front in Gujarat, criss-crossing the western state for more than two months during which he visited 26 temples.
This is the third such time during his political career since 2004, when he got elected to the 14th Lok Sabha from Amethi, that Gandhi has campaigned extensively in any state.
The previous occasions were during the 2012 and 2017 assembly elections in Uttar Pradesh.
Gandhi campaigned for 22 days from September 25 in the home state of Prime Minister Narendra Modi and Bharatiya Janata Party (BJP) chief Amit Shah. During the campaign trail, he addressed around 150 rallies and corner meetings, covering 2,600km by road. He also used helicopter during in his last days of canvassing.
On an average, Gandhi addressed three rallies and five corner meetings a day.
Take, for example, November 13, when he started the day with a visit to the Vir Meghmaya Temple at Patan at 9.45am.
He also addressed corner meetings at Patan, Kungher, Adia, Bortwada, Harij, Sami Char Rasta, Moti Chandur, Padla, Dhanora (all in Patan district), and Mera, Balol, Mitha Chokdi, Kachh Kadwa Patidar Samajwadi, Modhera Chokdi, Radhanpur Circle and Biladi Bag Vistar in Mehsana district.
Gandhi also paid obeisance at the Shankeshwar Jain Temple, Bahucharaji Temple and another at Varana. His day ended with a public meeting at Visnagar in Mehsana district at 7pm.
Similarly, on December 8, he started the day at 12pm and held three public meetings at Pavi Jetpur in Chhota Udaipur, Ranesa in Ahmedabad and Loteshwar Bhagol in Anand district.
The Congress leader also addressed corner meetings at Khambhat-Tarapur road in Anand, Limbasi in Kheda, Magrol and Sojitra Chokadi in Anand. That day, he also went to the Mogal Dham temple in Ranesar.
The number of public meetings or rallies increased to four from December 9 to 11, the last few days of campaigning for the second phase of polling on December 14 for 93 seats. The first phase of elections on 89 seats was held on December 9. The counting of all 182 seats is on December 18.
In this year's Uttar Pradesh assembly elections, Gandhi held 54 rallies and covered 46 assembly constituencies in the country's most populous state. Prior to that, he undertook a kisan (farmers) yatra from Deoria in Gorakhpur division to Delhi.
The month-long yatra started from September 6 to October 6 last year and he travelled 3,438km covering 48 districts and 141 assembly constituencies.
Gandhi also held 26 khat sabhas (interaction with farmers on cots), 26 road shows and collected around two crore application forms from farmers seeking loan waiver.
It was the first time the 47-year-old leader undertook such an extensive campaign that lasted 26 days. He had never led such a no-break exercise lasting for almost four weeks.
The maximum time he had spent in a poll-bound state till then was during the 2012 assembly elections—again, in the politically-vital Uttar Pradesh. On that occasion, he addressed back-to-back rallies in Gorakhpur, Deoria, Ballia, Mau and Azamgarh districts in five days at a stretch.
The entire campaign from November 2011 to February 2012 saw Gandhi addressing 211 public meetings across the northern state through the course of 48 days. It was a record of sorts at the time, but the party failed to cash in and ended up winning just 28 seats in the 403-member state assembly.
In 2017, the Congress tally decreased substantially and it did not cross the double-digit mark. The party bagged seven of the 105 seats it contested in alliance with the Samajwadi Party.
The Congress wants to unseat the BJP in Gujarat, where it has governed for 22 years, by tapping the angst over the agrarian crisis and the implementation of the goods and services tax, and on the strength of a coalition it has built with Patidars, some other backward classes, and Dalits.
The BJP hopes to retain power on the basis of the popularity of Prime Minister Modi, who was chief minister of the state for 13 years, and its record of development and governance.
Analysts expect it to be a close fight, although the BJP has maintained that it is confident of bettering its tally of 119 seats in the 182-member assembly in 2012. Opinion polls give the Congress anything between 37 and 85 seats, and the BJP 92-141.
Close