Textile traders in Ahmedabad on indefinite strike from tomorrow against 5% GST
Press Trust of India, Ahmedabad |
Press Trust of India
Jul 12, 2017 07:28 AM IST
Textile traders in Surat have already been on an indefinite strike since last week.
Textile traders in Ahmedabad will go on an indefinite strike from Monday to mount pressure on the government to roll back 5% GST on cloth.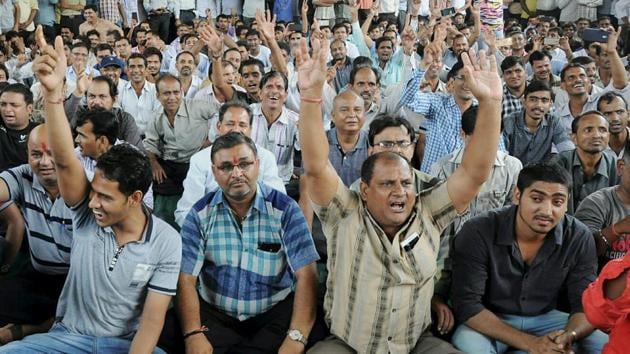 The decision was taken on Sunday during a meeting of traders associated with three major textile markets in the city, including Maskati Cloth Market Association, New Cloth Market and Panchkuva Cloth Market, a release by these associations said.
"5% GST on cloth is not acceptable to anyone who is in the textile business. To raise our voice against this tax, all the textile markets in the city will go on indefinite strike from tomorrow, as traders will refrain from any kind of transaction," the joint statement said.
Textile traders in Surat are already on an indefinite strike for last one week. On Saturday, thousands of traders took part in a massive rally to protest against the 5% GST rate.
Union minister Parshottam Rupala on Sunday asked traders to engage in talks with the Centre to resolve the issue instead of staging protests.
"The intention behind rolling out GST was to give a boost to trade and business, not to harass people. I agree that traders are agitating because they are facing some problems due to this new tax structure. But, the issue can be resolved with dialogue with the government," Rupala told reporters.
Meanwhile, people associated with the Kite Manufacturers Association registered their protest against 5% GST on the kite making industry in a unique way by organising kite flying festival on Sabarmati Riverfront.
"We have organised this kite flying festival to register our protest against 5% GST imposed on us. Earlier, there was no tax on kite making. Most people who make kites are illiterate and do not understand anything about tax structure. We want the government to revoke GST, otherwise, we will have to shut our business," said a kite maker, Nasruddin.