Tiger crushed to death with tractor by angry locals in UP's Dudhwa
Updated on Nov 05, 2018 08:14 AM IST
Deputy director of the Dudhwa Tiger Reserve, said the villagers killed the tigress in a retaliatory attack.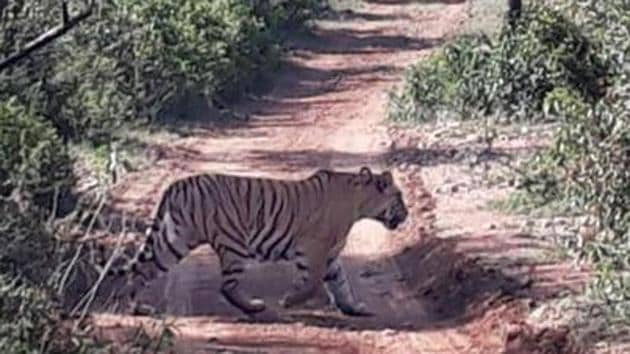 Hindustan Times, Lakhimpur Kheri |
Deokant Pandey
Villagers crushed a tigress to death with a tractor in the Dudhwa Tiger Reserve on Sunday, hours after they said the animal mauled a 50-year-old man in Uttar Pradesh's Pilibhit district, according to officials.
The incident, which took place in the Kishanpur sanctuary of the Dudhwa Tiger Reserve, came two days after hunters shot dead a tigress suspected of killing 13 people in Maharashtra. Animal rights activists are protesting over the recent killings of tigers, saying humans are trespassing into the habitat of the big cats, leading to increasing cases of man-animal conflict.
Mahavir Kaujlagi, deputy director of the Dudhwa Tiger Reserve, said the villagers killed the tigress in a retaliatory attack. "While we were busy in rushing the injured man to hospital, the villagers surrounded the big cat and crushed it to death under a tractor," he said. Fifty-year-old Devanand, who the villagers said was attacked by the tigress on Sunday morning, later succumbed to his injuries.
Field director of the tiger reserve, Ramesh Kumar Pandey said action will be taken against those involved in the attack on the tigress.
"An FIR will be lodged under the Wildlife Protection Act and appropriate action taken. The killing of a tiger inside the protected area is a serious offence," he said, adding that the spot where the incident took place was located in the core zone of the reserve.
Kaujlagi, who was monitoring the situation at the place of the incident, said: "The carcass of the tigress has been recovered and the autopsy will be carried out under the NTCA (National Tiger Conservation Authority) guidelines on Monday."
The tiger is India's national animal and is categorised as a 'Schedule One' species of endangered animals under the Wildlife Protection Act.
While retaliatory attacks on tigers by villagers are common in areas where incidents of man-animal conflict are on the rise, the World Wildlife Fund says large-scale habitat destruction is a major long-term threat to the dwindling tiger population in India.
"As tigers continue to lose their habitat and prey species, they are increasingly coming into conflict with humans as they attack domestic animals – and sometimes people. In retaliation, tigers are often killed by angry villagers," according to WWF.
Experts say there is a need to respect the habitat of tigers, with only about 3,900 of them remaining across the world.
Personalise your news feed. Follow trending topics