'Man-eater' tigress Avni, believed to have killed 13, shot dead in Maharashtra's Yavatmal
The six-year-old tigress, known as Avni or T1, was the focus of a hunt for over past two months after she allegedly killed human beings in the Pandharkawada forests in eastern Maharashtra last year.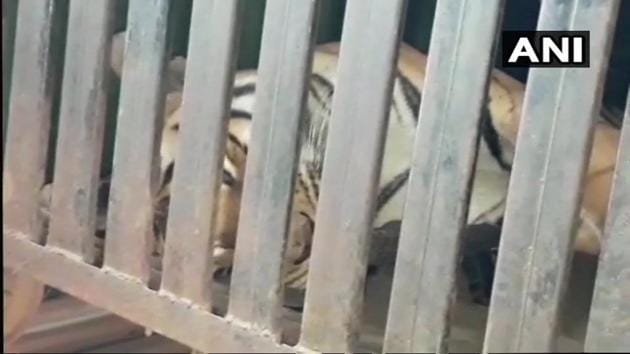 Updated on Nov 03, 2018 12:22 PM IST
A man-eater tigress named Avni that had allegedly killed at least 13 villagers in Maharashtra's Yavatmal over the last one-and-a-half years, was shot dead near Borati-Warud area late on Friday night after a massive hunt that involved over 200 personnel.
The six-year-old tigress and her two cubs were blamed for the killings in Pandharkawda and Ralegaon regions, triggering unrest among locals.
A shoot-at-sight order had been issued by the state's principal chief conservator of forest (PCCF) last month and was endorsed by the Supreme Court.
Nawab Shafath Ali Khan, the sharp-shooter, who was engaged in the operation to tranquilise the tigress, had gone to Bihar, where he is member of state wildlife board. In his absence, his son Asghar Ali, who is a tracker, sighted the tigress on Friday night.
Initially, Ali had fired a dart from a tranquilising gun. On being hit by the dart, the tigress roared loudly and charged at him, following which he shot it dead in self-defence.
It happened in forest compartment No. 149 of Borati-Warud area at 11.45 pm, the Nagpur-based wildlife wing said.
The post-mortem will be conducted at Nagpur's Gorewada Rescue Centre, the wildlife wing said.
AK Mishra, the principal chief conservator of forest (wildlife) and state wildlife warden, said that the tigress was killed on the spot.
As soon as the news spread, the top officials of the forest department and wildlife wing who were camping at Pandharkawda in Yavatmal district, rushed to the spot.
Wildlife activist Jerryl A Banait, who had filed a public interest litigation jointly with NGO Earth Brigade Foundation (EBF), said that the National Tiger Conservation Authority (NTCA)'s rules have been grossly violated in the killing of Avni, news agency IANS reported.
The feline is said to have killed 13 persons since June last year following which a massive hunt was launched by the state government, involving 200 forest and police personnel, trained sniffer dogs, drones, trackers and sharp-shooters.
As many as 90 camera traps had been installed at 45 strategic points to get pictures on movement of the tigress and her two cubs, but they were almost never sighted.
In October, an elephant that was part of a hunting group ran astray overnight and trampled a woman to death.
In view of the unrest among locals, Maharashtra forest minister, Sudhir Mungantiwar had directed Mishra to camp at Pandharkawda and supervise "the operation to tranquilise the beast".
An order to shoot the tigress in September had triggered protests from wildlife activists, who moved the Supreme Court, which, however, approved the shooting.
Besides PILs in the Supreme Court and Bombay high court (Nagpur bench), several wildlife groups and activists had strongly opposed plans to eliminate Avni since it would also mean near-certain death for her two dependent young ones.
Online petitions and social media campaigns, demonstrations and protests have been running for several months in a bid to save the tigress and her cubs.
(With agency inputs)
Topics
Close Story