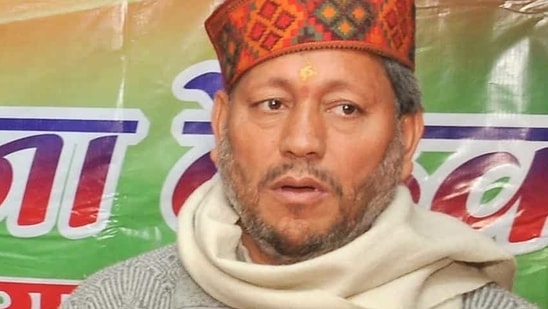 Tirath Singh Rawat's ability to take everyone along key factor for selection
New Delhi When the assembly elections were held in Uttarakhand in 2017, Tirath Singh Rawat was not given a ticket despite being the president of the party in the state and a sitting legislator
By Sunetra Choudhury
, Hindustan Times, New Delhi
UPDATED ON MAR 11, 2021 03:04 AM IST
When the assembly elections were held in Uttarakhand in 2017, Tirath Singh Rawat was not given a ticket despite being the president of the party in the state and a sitting legislator. He did not sulk or protest, and patiently waited till 2019, when he was awarded a Lok Sabha ticket from Garhwal. It is the sitting MP's unflinching loyalty, and his ability to get along with different communities and factions, that has got him the top job in the state, according to several party insiders that HT spoke to.
"Satpal Maharaj was given his seat in 2017 (from Chaubhattakhal),'' said MLA Munna Chauhan, "But Tirath Singh ji maintained the discipline. Today he's been rewarded with the CM's post."
At the state MLAs' meeting on Wednesday, also attended by the party's members of Parliament from the state, outgoing CM Trivendra Singh Rawat proposed Tirath Singh Rawat's name. It was supported by all the other CM aspirants, including Union education minister Ramesh Pokhriyal "Nishank".
The ability to take every one along was a prerequisite for any new incumbent since the outgoing CM's apparent lack of coordination with his party MLAs and his cabinet colleagues led to a virtual rebellion in the state, with senior leaders complaining that Trivendra Rawat never consulted them before taking major decisions.
"The BJP in Uttarakhand has been known for factionalism. Every leader here has his own followers and their areas of strength. In their midst, the new CM is someone who is totally uncontroversial and very, very modest. He has time to sit and talk to all,'' said a member of the Akhil Bhartiya Vidyarthi Parishad (ABVP), in which Tirath Singh Rawat served as national secretary and organising secretary before his political career took off.
"I met him last month, and he sat with me for hours; he is very, very down to earth,'' said the person quoted above.
A second key factor supporting his candidacy was that while he is a Rajput, he is seen as someone who is acceptable to Brahmins. The Brahmin lobby in the state has been unhappy with Trivendra Rawat after he constituted the Uttarakhand Char Dham Devasthanam Management Board in January 2020 to manage all temples in the state.
"From Brahmins managing these temples, it was handed over to bureaucrats. This decision by Trivendra Rawat deeply upset the community, " said a third leader who asked not to be named. "They don't have the same problem with Tirath Singh ji."
The new CM is also from Pauri Garhwal, where five out of nine chief ministers in the state have come from. "A few days ago, when CM Trivendra Rawat carved out a new division of Garsain out of the existing Kumaon and Garhwal regions, it led to an outcry all over social media from many who considered themselves Kumaonis or Garhwalis but were now part of Garsain. Hopefully, Tirath ji will change these orders," the third leader said.
It will be a challenging road ahead for Tirath Singh Rawat, with just a year to go for the assembly polls. Apart from handling some of the tricky problems cited above — the new board for temples, the new division of Garsain — he has to manage his own election from an assembly seat in the next six months, and then ensure a win in the MP by-election in his seat.
Topics
Close