'Tomorrow might be too late': Top 10 quotes by Sushma Swaraj at UN meet
Sep 29, 2018 09:35 PM IST
The external affairs minister not only spoke about the pressing issues of climate change but also on the need for reforms at UN.
As Sushma Swaraj emphasised on the role that developed nations needed to play to uplift underdeveloped countries, her statement was received with a loud applause from the representatives of other nations. The external affairs minister not only spoke about the pressing issues of climate change but also on the need for reforms at UN. "Tomorrow might be too late", the minister said at UN, adding how crucial it was to adapt to the changing needs of the world and bring reforms to cater to those needs. Here are the top quotes by Sushma: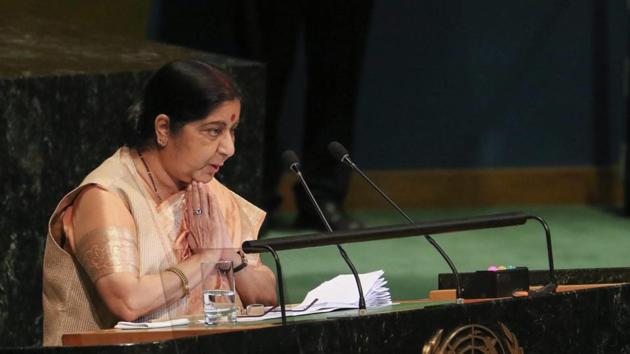 1. The United Nations must accept that it needs fundamental reform. Reform cannot be cosmetic. We need change the institution's head and heart to make both compatible to contemporary reality. Reform must begin today; tomorrow could be too late.
2. Step by step the importance and value of this institution is beginning to ebb. The league of nations came to an end because it did not adapt the changes needed, we must not become like that.
3. In 1996, India proposed a draft document on CCIT at the United Nations. Till today, that draft has remained a draft, because we cannot agree on a common language. On the one hand, we want to fight terrorism; on the other, we cannot define it.
4. Each year, for last five years, India has been arguing from this podium that lists are not enough to check terrorists and their protectors. We need to bring them to accountability through international law.
5. Who can be a greater transgressor of human rights than a terrorist? Those who take innocent human lives in pursuit of war by other means are defenders of inhuman behaviour, not of human rights. Pakistan glorifies killers; it refuses to see the blood of innocents.
6. In our case, terrorism is bred not in some faraway land, but across our border. Our neighbour's expertise is not restricted to spawning grounds for terrorism; it is also an expert in trying to mask malevolence with verbal duplicity.
7. If we have to save the world from the adverse effects of climate change, then developed nations must lift the deprived with financial and technical resources.
8. India believes that the whole world is one family. So we believe the UN should run on the principles of a family. A family runs on love not on jealously. In UN, we cannot say I, me or mine, it is us, we, and ours. We should keep every country's goals in mind.
9. We have to make this assembly into a platform of understanding, assistance and true justice. We have to understand the pain of other nations, and work with developed nations to ease and eliminate this pain. Arrogance has no place in our scheme of things; arrogance is counter-productive and self-defeating. Let us work for the benefit of the less fortunate.
10. This year India will celebrate the 150th birth anniversary of Mahatma Gandhi. The Mahatma's favourite bhajan was "Vaishnav Jan to tene Kahiye". The essence is deeply moving and quintessentially important: He who understands the pain of another, and absorbs it as his own, is a good human being. He who sees this pain, and helps without becoming arrogant, is a good human being'.