Expert not just in terror, verbal duplicity too: Sushma Swaraj slams Pakistan at UN meet
Sep 29, 2018 08:50 PM IST
Sushma Swaraj left on Friday an informal meeting of ministers of Saarc countries on the sidelines of the UN General Assembly after highlighting terrorism in her speech, with Pakistan seeing the exit as a snub.
Pakistan's expertise is not restricted to spawning grounds for terrorism but is also an expert in trying to mask malevolence with verbal duplicity, External Affairs Minister Sushma Swaraj at the UN General Assembly on Saturday, launching a sharp attack on Pakistan for its continued support to terrorism.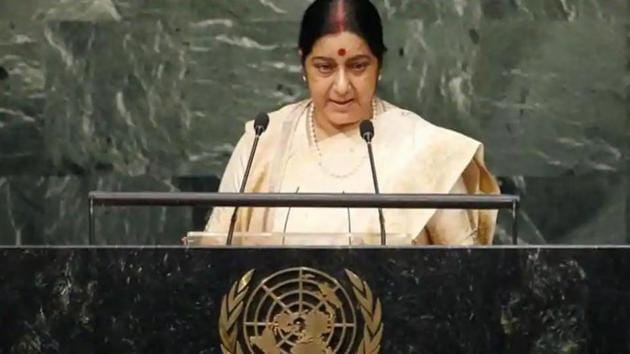 The foreign minister also delivered a sharp rebuttal to Pakistan's claims that New Delhi had sabotaged talks with its neighbour and pinned the blame for the stalled dialogue process on Islamabad.
"We are accused of sabotaging the process of talks. This is a complete lie. We believe that talks are only rational means to resolve the most complex of disputes. Talks with Pakistan have begun many times. If they stopped, it was only because of their behaviour," she said, underlining that this is why, irrespective of which government was in power in Delhi, the dialogue process would get derailed.
She also asked world leaders how could talks can be pursued in the midst of "terrorist bloodshed" with a nation that "glorifies killers" and refuses to see the blood of innocents.
Swaraj said the "most startling evidence" of Pakistan's duplicity was the sanctuary given to Osama Bin Laden, the architect and ideologue of 9/11. America perhaps could not comprehend that Osama would get sanctuary in a country that claimed to be America's friend and ally: Pakistan. Islamabad, on the other hand, continued to behave as if nothing had happened.
India said nothing had changed since then.
"Pakistan's commitment to terrorism as an instrument of official policy has not abated one bit. Neither has its belief in hypocrisy," the minister said.
The foreign minister's stinging attack on Pakistan comes just days after she told a meeting of leaders from South Asia that an atmosphere of peace and security - an oblique reference to Pakistan's support to terrorism - was a prerequisite for economic development and cooperation in South Asia.
"The number of threats and incidents that endanger South Asia are on the rise," Swaraj said at the informal meeting of the SAARC Council of Ministers on Tuesday. Swaraj did not stay through the meeting and left for other engagements soon after delivering her speech.
It was seen as a snub by Pakistan's foreign minister Shah Mehmood Qureshi who was to speak later. An Indian official said the minister left for her next meeting after her speech. "The ministers of Bangladesh and Afghanistan had left before her," he said, suggesting that Pakistan was making too much fuss about Swaraj's exit.
Qureshi and Swaraj were to meet on the sidelines of the world body's meet in New York. It would have been the first bilateral meet of foreign ministers of the two neighbours in three years. But New Delhi cancelled the meet just 25 hours after accepting the talks offer from Pakistan Prime Minister Imran Khan.
India had cited the brutal killing of security personnel by Pakistan-based entities and the recent release of a series of 20 postage stamps by the neighbour "glorifying a terrorist and terrorism". Qureshi claims India's "domestic political and electoral compulsions" were behind New Delhi's reluctance to talk to the new government in Islamabad.