3 policemen kidnapped, killed in Kashmir, days after threat from militants
Hindustan Times, Srinagar |
MIr Ehsan
Sep 21, 2018 12:16 PM IST
The Hizbul Mujahideen had recently given what it called a 'final warning' to special police officers, or SPOs, to quit by September 19 .
Three policemen, two of them special police officers, were kidnapped on Thursday night and killed hours later in south Kashmir's Shopian, considered the hotbed of militancy in the state.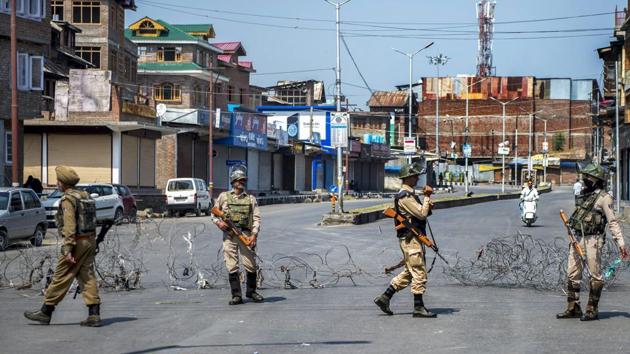 A fourth person, brother of a policeman, who had also been abducted was, however, released on Friday morning. The four had been kidnapped from Shopian's Kapran village.
The three policemen were found dead near an orchard in Wangam village, four kilometres from the spot where they had been taken away.
"We have lost 3 of our brave colleagues in a barbaric terror strike. Our tribute to the 3 martyred jawans, Nisar Ahmad, Firdous Kuchay and Kulwant Singh," Kashmir police tweeted, condemning the "inhuman act".
No militant group has yet claimed responsibility.
But terror group, Hizbul Mujahideen, had recently delivered what it had called was the "final warning" to the special police officers, or SPOs, to quit by September 19.
There has been a spike in incidents of attacks on security personnel and their families in recent months that is seen as part of an effort to demoralise them.
Last week, suspected militants killed a 45-year-old army man, who was home to mourn the death of his teenage son in Kulgam.
Last month, 11 members of police families were abducted but later released unharmed.
In June, Army soldier Aurangzeb was abducted from a private vehicle when he was going home for Eid in Shopian. His body was recovered from a Pulwama village.
Peoples' Democratic Party chief Mehbooba Mufti, whose tenure as chief minister ended abruptly this June after the BJP withdrew support, was unsparing in her attack on the centre. In two tweets, Mehbooba Mufti said the "centre's muscular policy" was clearly not working at all.
It was a sucker punch aimed at the BJP that had cited Mehbooba Mufti's inability to keep militancy under check.
"Three more policemen have lost their lives to militant bullets. Outrage, shock & condemnation will be expressed by all of us on expected lines. Unfortunately, it brings no solace to the families of the victims.... Dialogue, the only way forward seems to be a distant dream for now," he tweeted.
.