Traders apprehensive about GST, taxation dept gears up to implement new law
As India's biggest ever tax reform comes into effect, many traders in the country fear a bumpy ride despite most state governments welcoming the Goods and Services tax.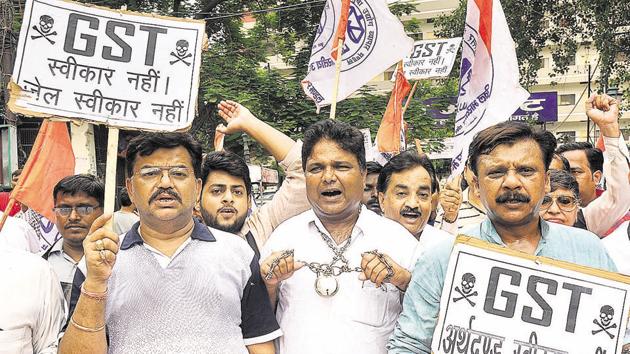 Updated on Jul 01, 2017 02:19 PM IST
Most state governments are optimistic about the Goods and Services Tax (GST) which was launched on Saturday midnight, but for tax officials a punishing schedule is looming to put into practice the new law while traders in many parts of the country are unhappy.
In Maharashtra many traders have been complaining of not having got their GST registration. Though the administration has claimed that 95% of 8 lakh traders have registered themselves in the new regime, thousands of new tax assessees are yet to do it.
"We are all set to roll out GST from Saturday. It is difficult to say that all compliances have been done as it's a massive task. But I can day that Maharashtra is much ahead in preparations that other states," said Sudhir Mungantiwar, state finance minister.
Meanwhile, the finance department has been receiving about 300 letters a day raising doubts and concerns over about the new tax regime.
In Uttar Pradesh deputy chief minister Dinesh Sharma said this is a time to celebrate GST and not give in to cynicism.
But not everybody shares his optimism.
"Common service centres (CSC) will play an important role to play in implementation of GST in rural areas where people are not that computer savvy. The CSC in-charges will have to be trained well to understand their role and help the small traders in defining the GST rules to them and help them in official work," said an official of commercial tax department on the condition of anonymity.
The state has more than 50 lakh small, medium standard traders so reaching out to everyone individually was not possible that's why despite hundreds of workshops the switch over work has not been that swift, admitted an official and added, "It would take around three months more for the things to settle down."
Read more: GST, India's biggest tax reform, launched at midnight; PM Modi says 'Good and Simple Tax' will help poor
The AIADMK government in Tamil Nadu which is preoccupied with its own survival cautiously welcomed the GST roll out leaving the task of expressing opposition to the move to trade bodies.
State finance minister D Jayakumar said the state was fully prepared for roll out of GST and said that prices would not rise due to it.
The only hint of unhappiness came from Lok Sabah deputy speaker M Thambi Durai who said Tamil Nadu had supported the GST out of compulsion. In fact, former chief minister J Jayalalithaa was vehemently opposed to the GST as some of its provisions went against a manufacturing state like Tamil Nadu. She had contended that Tamil Nadu would lose revenue because of GST.
Traders' bodies in Tamil Nadu are nervous and angry.
"We have been opposing GST from the very beginning as it would cripple trade and business - from the petty shops to large establishments. It will destroy us, yet the Centre has gone ahead and decided to force it upon us. We will fight it tooth and nail," said T Vellaiyan, president of TN Vanigar Sanga Peravai.
The Telengana government highlighted its loss of revenue while welcoming GST.
"The GST would impose an additional tax burden of Rs 19,500 crore on the ongoing infrastructure projects in the state like lift irrigation schemes, Mission Kakatiya (restoration of tanks) and Mission Bhagiratha (provision of drinking water supply to every household) and double bedroom housing schemes because majority of the goods and services used in the projects fall in the higher tax brackets," said Kalvakuntla Kavitha, Nizamabad MP and chief minister K Chandrasekhar Rao's daughter.
The state's finance minister Etela Rajender said Telangana would lose around Rs 3,000 crore as the Centre has fixed the average growth rate of 14% as cut-off limit for the states to compensate for the loss of revenue on account of GST implementation.
Watch |India enters GST era: What's in it for you
Though the Madhya Pradesh government has welcomed GST and commercial tax department is working almost round the clock to implement the new tax regime, the department officials are apprehensive about the problems they are going to face.
The dual control over collection of the tax under GST i.e. of the Centre and state is something which will be a new phenomenon for the department officials and personnel.
The Bihar government is all geared up to roll out the GST. Altogether 22 notifications related to the new law has been issued to pave the way for implementation of the new tax. All stakeholders, especially those engaged in business and trade, have been informed of changes.
"We have set up a round the clock helpdesk to be functional on all seven days of the week to provide clarifications to people from all walks of life, including businessmen and the common man about any GST related query. The government is fully geared to implement the new law," said joint commissioner, Markandey Ojha.
The three helpdesk numbers are 0612-22335-13-14 and 15, open 24 X7.
The commercial tax department is closely monitoring migration of traders registered under VAT to GST.
A leading manufacturing state, Gujarat is all set to roll out the GST regime from July 1, amidst protest from sections of major industries including textiles and diamond.
The Gujarat assembly in this regard had passed three bills in a special session held earlier this month. Being a manufacturing state, Gujarat is set to lose some revenue but hopes to recover from the Centre's compensation scheme.
Gujarat finance minister Nitin Patel had said: "After implementation of GST, the state will lose some tax income but the central government is agreed to provide 14% compensation for five years''.
Close Story
Personalise your news feed. Follow trending topics