Traders complain about GSTN registration hassles
Problems range from non-acceptance of earlier email IDs and passwords to non-opening of various websites to no confirmation e-mails to delay in OTP numbers, etc.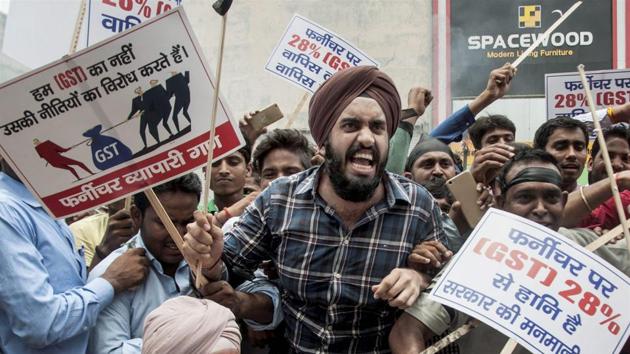 Published on Jun 29, 2017 09:58 AM IST
Hindustan Times, New Delhi |
, New Delhi
HT Correspondents
With just two days to go for the rollout of Goods and Services Tax (GST), traders across the country are complaining about hassles during the registration process for the new tax.
Under GST, commercial tax payers are required to shift their sales and service tax registrations to GST Network (GSTN), a web-based system for payment, information and documentation.
Jharkhand commercial tax department officials said out of 90,000 registered traders, 66,000 have migrated to GST so far. But hundreds of those who tried to migrate to GSTN, when registration was reopened on June 25, faced a host of issues.
"The server is not accepting earlier emails and passwords," said Ranji Garodia, general secretary of federation of Jharkhand chamber of commerce and industries (FJCCI).
He said the service tax department was informed on Monday, and also clarified that fresh registrations were smooth.
Mahesh Singhania, chairman of Federation of West Bengal Traders' Associations, too had complaints about the new system.
"Traders are in a confusion whether digital signature is necessary or not. This has happened as the government is yet to come out with a detailed notification on this issue with all necessary explanatory statements," said Singhania.
He also said that a large number of small traders in the state do not have personal computers and they are feeling helpless.
"They are approaching the chartered accountants, who are taking the opportunity of charging exorbitant charges," Singhania explained.
Chartered accountants, however, are also having trouble registering. Problems ranged from non-opening of various websites to no confirmation e-mails, delay in OTP numbers, etc.
"It is taking hours to register and even after registration, we are not getting emails on errors or confirmation mails," rued Mukesh Panchal, director of M B Panchal and Company, Mumbai.
GSTN CEO Navin Kumar said the registration process was started in November last year. "We opened it again from June 1 to 15, and now from June 25," he said.
However, Suresh Agarwal, president of Federation of Rajasthan Trade and Industry, said that there was no preparation on the part of the government. "It is launching GST in haste," he said, adding that GST helpline was also not working.
Several traders' organisations have called strikes opposing the new tax regime, especially textile traders who are striking from June 27-29.
Cloth traders in Mumbai have also announced a three-day strike where major wholesale markets such as Mangaldas Market and Swadeshi will be shut.
"We were promised that there will be no GST on cloths but the government back-tracked,"said Raichand Binaykya, convener, Joint Action Committee, All Textile Traders Association.
Many others, however, had little problems migrating to GSTN as its CEO Navin Kumar said in the first phase out of 80 lakh tax payers, 66 lakh have registered.
Indore based chartered accountant Deepak Agrawal said there was no problem in case of fresh registrations. In case of migration, problems arose due to mismatch of data in Aadhaar and PAN card and differences in signatures.
"There's been absolutely no problem in registering clients," said Mukesh Diwan, a chartered accountant based in Guwahati.
Former vice-president of Bihar Industries Association Sanjay Goenka, also endorsed the smooth functioning of GSTN, saying that certificates have started to arrive for those registered.
Traders in Tamil Nadu were also able to register on the GST portal without any glitches.
State finance minister D Jayakumar has said over 90% of the small, medium and big traders and businessmen have enrolled for GST.
(With inputs from Jharkhand, West Bengal, Mumbai, Rajasthan, Guwahati, Tamil Nadu and Bihar)
Close Story