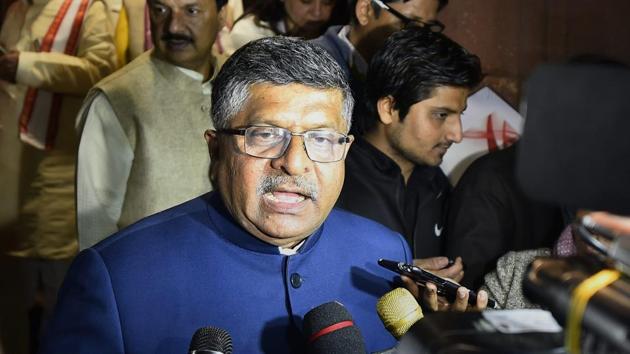 Bill criminalising triple talaq passed in Lok Sabha, will now go to Rajya Sabha
MPs from the RJD, AIMIM, BJD, AIADMK and All India Muslim League opposed the bill, calling it arbitrary in nature and a faulty proposal.
UPDATED ON DEC 29, 2017 08:50 AM IST
The Lok Sabha on Thursday made history by passing a law criminalising instant triple talaq in a move that significantly empowers Muslim women, although the legislation will now have to be cleared by the Upper House of Parliament.
The All India Muslim Personal Law Board, which has opposed the law, has said if the Rajya Sabha passes the bill, it will approach the Supreme Court, which, in August held the practice unconstitutional and illegal, though it didn't rule on or suggest criminalising instant triple talaq.
Highlights of Lok Sabha proceedings, voting on triple talaq bill
The proposed law, which stipulated up to three years of jail and a penalty for violators, was passed amidst concern from opposition members that it was criminalising what was essentially a civil procedure, and that it could be misused. Some Muslim women's groups have also raised concerns about "maintenance" if the husband is sent to jail.
The Muslim Women (Protection of Rights on Marriage) Bill seeks to "ensure the larger constitutional goals of gender justice and gender equality of married Muslim women and help sub-serve their fundamental rights of non-discrimination and empowerment", Union law minister Ravi Shankar Prasad informed the House.
Read: Modi govt imposing its will on triple talaq, Islamic scholars not consulted: Sharad
Most opposition parties were in favour of a law to deter Muslim men from practising talaq-e-biddat or instant Triple Talaq, and they demanded wider consultations and changes in the bill.
The bill was passed by a voice vote after rejecting a resolution moved by Revolutionary Socialist Party member NK Premachandran that the legislation be circulated for public opinion.
Rejecting the opposition's demand for sending the bill to the standing committee of Parliament, Prasad stressed the proposed law should not be seen through the prism of politics or vote bank but in the light of gender justice and equality.
"Women are seeing that justice will be done to them. Let us speak in one voice that we are for gender justice and gender equity and pass the bill unanimously," he said, winding up the discussion.
Union minister of state for external affairs MJ Akbar questioned the credibility of the All India Muslim Personal Law Board for opposing the bill. "What is their credibility? Who elected them and chose them to be the representatives of the Muslim community?" he asked, even as he added that the slogan "Islam khatre mein hai (Islam is in danger)" was earlier used to divide the nation and is now being used to divide society.
The legislation would have far-reaching implications for 90 million Muslim women living under the "constant fear of being divorced", Akbar said.
Read: Will take steps to amend, improve or scrap triple talaq bill, says AIMPLB
Hailing the passage of the bill, BJP chief Amit Shah said the "historic step" will bring a "new era of hope and respect in the lives of Muslim women". "This bill is a historic step towards ensuring dignity for Muslim women. I thank all fellow Parliamentarians who have supported this bill, which will bring a new era of hope and respect in the lives of Muslim women," Shah tweeted.
Asaduddin Owaisi, president of the All India Majlis-e-Ittehadul Muslimeen, opposed the bill but said he was in favour of a law that punishes men who abandon their wives.
The bill will only be applicable to instant triple talaq or "talaq-e-biddat" and gives power to a woman to approach a magistrate seeking "subsistence allowance" for her and her minor children. A woman can also seek the custody of her minor children.
Under the proposed law, instant triple talaq in any form — spoken, in writing or by electronic means such as email, SMS and WhatsApp —is illegal and void.
Though the Congress supported the bill, it wanted the government to refer the proposed legislation to a parliamentary standing committee for wider consultations and broader consensus on the move.
"Everybody wants to support women empowerment but there are some lacunae, which can be settled sitting together," Congress leader Mallikarjun Kharge said.
The Communist Party of India (Marxist), Rashtriya Janata Dal, Samajwadi Party and Indian Union Muslim League were among those which endorsed the Congress's stand.
The bill will now go to the Rajya Sabha, which is likely to take it up for passage next week.
"It is a historic day," law minister Prasad said while introducing the bill. The minister said at least 300 cases of triple talaq have been reported in 2017 and 100 of them after the Supreme Court judgment. He argued that many Islamic nations have already banned triple talaq.
Earlier in the day, Prasad briefed BJP MPs about provisions of the bill, and Prime Minister Narendra Modi called for its passage by consensus.
Close