Tripura polls: Bengali contestant says separate state demand not anti-Bengali
Feb 03, 2023 01:39 PM IST
Tapas De's Tipra Motha is fighting the assembly polls on the main plank of carving out a separate Greater Tipraland state from Tripura even as the demand has been projected as anti-Bengali
Tapas De, 77, stayed away from electoral politics after contesting the first Tripura assembly poll as a Congress candidate five decades back in 1972. He remained loyal to Congress even when a majority of its leaders defected to Bharatiya Janata Party (BJP) before the latter came to power for the first time in the state in 2018.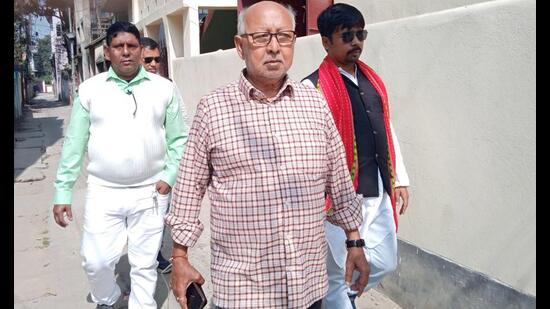 De, a Bengali, has now come out of virtual retirement from electoral politics but is contesting the February 16 polls on Tipra Motha's ticket. Pradyot Kishore Debbarma of Tripura's erstwhile royal family founded Tipra Motha to represent the state's indigenous tribal population.
Tipra Motha is fighting the assembly polls on the main plank of carving out a separate Greater Tipraland state from Tripura even as the demand has been projected as anti-Bengali.
In the run-up to the polls, there have been growing calls from the state's tribal leaders for the bifurcation of Tripura, where Bengalis accounted for 65.73% of the population as per the 2011 census.
De blamed a section of political leaders with vested interests for trying to confuse people by calling Greater Tipraland demand anti-Bengali. He said the projection will harm the interests of both tribal and non-tribal people.
De said it was the greatness of Tripura's tribal population that they accepted Bengali refugees from erstwhile East Pakistan (now Bangladesh] at the time of partition in 1947. "One should know the history of Tripura and the meaning of Tiprasa before speaking about Greater Tipraland."
De blamed the Union government and national parties' neglect of the tribal people for the Greater Tipraland demand. He added the demand is not new. "Indigenous Peoples Front of Tripura, an alliance partner of [the ruling] BJP, has also demanded separate Tipraland. Congress's ally TUJS [Tripura Upajati Juba Samiti] also raised a similar issue."
De, who has been close to the erstwhile royal family, said the former royals promoted Bengali and declared it an official language during their rule. He added they allowed Bengalis to settle in Tripura and also appointed them to high offices.
De said the term Tiprasa means people of Tripura, which includes non-tribals as well as tribals. He added all people, who are Tripura's legal residents, are Tiprasa and Greater Tipraland will be for them. He added there will be no bifurcation beyond Tripura's current map.
De said he also chose to contest polls after a long gap as the BJP poses a threat to the state. "It [BJP] is divisive. We have faced riots in 1980. We do not want any violence. Both tribal and non-tribal communities are peace-loving here. That is why I thought of contesting again."
De has been fielded against law minister and six-time lawmaker Ratan Lal Nath from Mohanpur. Nath won on a Congress ticket five times before leaving the party.
"When I visit the constituency, I hear only complaints of lack of development and basic civic amenities such as drinking water...I shall not make any promise now to people but my commitment to their interest will not be disturbed after my victory or defeat."
De, who joined Tipra Motha in 2021 after Debbarma formed it after leaving the Congress in 2019, echoed his party leader and said it will be his last fight and will end with victory.
Tipra Motha won the Tripura Tribal Areas Autonomous District Council polls in 2021. Nearly 70% of the state's tribal population is concentrated in the area under the council's jurisdiction.
Tipra Motha has fielded candidates on 42 of the 60 assembly seats. The candidates include 22 for non-tribal seats.