Trojan horse: BJP stings Navjot Sidhu for his Rafale barb from Pakistan
Nov 28, 2018 08:13 AM IST
Navjot Singh Sidhu is back in Pakistan, this time to attend the ground-breaking ceremony to build the corridor linking Gurdwara Darbar Sahib in Kartarpur.
Punjab minister Navjot Singh Sidhu on Tuesday got back at his critics in the ruling BJP for giving Pakistan Army Chief Gen Qamar Javed Bajwa a warm hug at Prime Minister Imran Khan's swearing-in ceremony in August. "It was a 1-second-long hug, not a Rafale deal," shot back Sidhu, known for his quirky one-liners on small screen. "When two Punjabis meet, if they want to express warmth, they give the other a hug... It is a way to show warmth and affection," he explained.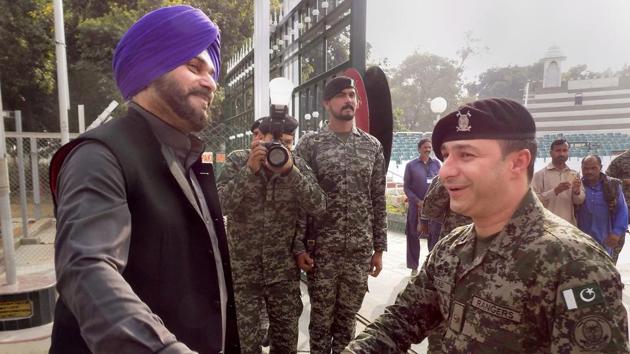 It was during the August visit, Navjot Singh Sidhu had then declared, that Imran Khan and General Bajwa had spoken about opening the religious corridor to Kartarpur. But relations between the two countries did not quite normalise after the change of guard in Islamabad either and Sidhu had faced a barrage of criticism including from his boss, Punjab Chief Minister Amarinder Singh for the visit, and the hug.
Navjot Singh Sidhu is back in Pakistan, this time to attend the ground-breaking ceremony to build the corridor linking Gurdwara Darbar Sahib in Kartarpur, the final resting place of Sikh faith's founder Guru Nanak, on the bank of Ravi river in Pakistan with India's border district of Gurdaspur. The Indian government is also building a corridor on its side of the border.
At a media interaction within hours of reaching Lahore, Sidhu mostly steered clear of controversial issues relating to diplomacy but gave credit to Imran Khan, also a cricketer-turned-politician like him.
"The seed sown by Imran Khan three months ago has become a tree and me and 120 million Sikhs could not be happier," he said, speaking in Punjabi.
"The Kartarpur corridor will be a path of peace and instead of 60 years, happiness can come in six months through it. This corridor will be the reason borders between both countries open," Sidhu said.
It was to a question on the reaction to his much-criticised hug with General Bajwa that the Punjab minister drew in the row over the Rafale deal that has been used by Congress president Rahul Gandhi to accuse Prime Minister Narendra Modi of corruption. The Congress alleges the government bought overpriced planes from the French manufacturer Dassault.
The BJP promptly hit back at Sidhu on social media.
"Congress carries Rafale Campaign through Sidhu to Pakistan. Snide remarks against Indian government. Pakistani PM is described as a farista. Have we heard of Trojan Horses?" the BJP tweeted.
It also pointed how Sidhu had carried "Rahul Gandhi's falsehood against Rafale purchase to Pakistan."
"He found allies there," the BJP said in its double-barrel attack that sought to counter the Congress accusation on Rafale and question the Congress leader hurling accusations at the prime minister from across the border.
Back in August too, the BJP had described Sidhu's decision to attend his 'friend' Imran Khan's swearing-in ceremony as shameful. Sidhu's boss, Punjab Chief Minister Amarinder Singh, had also distanced himself from Sidhu's previous visit to Pakistan. This time, he has made it clear that he had explicitly advised Sidhu against travelling across the border. The chief minister had received a similar invite to travel for Wednesday's Kartarpur ceremony but had declined, citing Islamabad's continued support to terror in India.