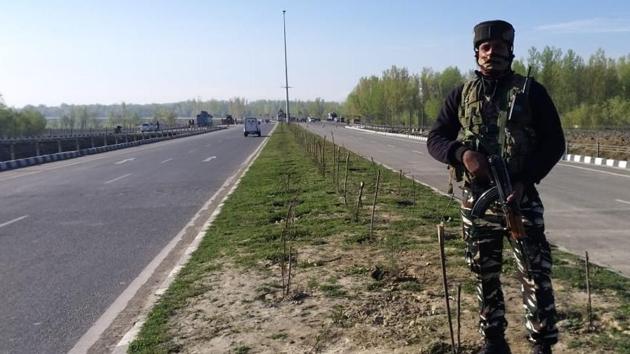 'Mindless': Omar Abdullah tweets as J-K highway ban leaves people stranded
Army, police and CRPF personnel have been deployed at all intersections leading to the highway to ensure that civilian traffic does not interfere with movement of convoys of security forces, officials said.
Hindustan Times, Srinagar | By Mir Ehsan
UPDATED ON APR 07, 2019 03:18 PM IST
The ban on civilian traffic on the national highway from Jammu to Srinagar came into effect today, stranding thousands of travellers.
From early in the morning, police, CRPF and army jawans began enforcing the ban on civilian traffic on the national highway even as residents termed this ban as inhuman.
The two-days a week highway closure comes more than a month after a suicide bombing by a Jaish-e-Mohammed terrorist on February 14 killed 40 troopers of the Central Reserve Police Force (CRPF) on the highway at Pulwama in south Kashmir.
Many link roads connecting to the national highway were also blocked using barbed wires, preventing access of civilian vehicles on to the highway.
A state government notification on Wednesday had said that civilian traffic would not be allowed on the Jammu-Srinagar highway on Sundays and Wednesdays to ensure safe movement of security convoys during the parliamentary elections.
On Saturday evening, the state government even notified the names of magistrates and officials who, according to the government notification would oversee the ban and help people in distress travel on the highway despite the ban.
At several places, magistrates were issuing passes on the spot to people, especially patients. However, many officials refused to entertain requests from the people in need.
"An elderly man with his ailing child pleaded with the magistrate to let him go at HMT crossing. He was simply turned back and asked to find some other route," posted a journalist on social media along with the picture.
Troops from police, CRPF and the army have been posted along the national highway at every 500 to 1000 metres to enforce the ban. "We have been asked not to allow even a cycle to pass on the national highway from morning to evening. We are here to implement the order," said a CRPF jawan who was enforcing the ban on the national highway at Baramulla.
A police officer, however, said vehicles with special permission are not stopped. "We stop vehicles at interjunctions and those vehicles which are on the road or not halted, we consider them to be carrying the permission to travel on the highway."
A majority of residents termed the diktat as draconian. "At many places, vehicles with patients were stopped and common people couldn't contact magistrates or the officials. I have seen this happening for the first time in my life," said Tariq Ahmad, a businessman from north Kashmir.
"To stop traffic on national highway is a direct attack on our economy and self-esteem," he said.
Dozens of leaders and workers from the Peoples Democratic Party defied the ban and plied vehicles on the national highway near Pantha Chowk and raised slogans against Jammu and Kashmir Governor Satya Pal Malik and his administration.
Former BJP ally Sajjad Lone termed it as a humanitarian disaster and asked the governor to scrap the order.
"The highway ban is now turning into a humanitarian disaster. We've been flooded with calls from across the state. People in dire need to travel in order to tend to their day-to-day needs of survival stuck in a state of helplessness," he tweeted.
National Conference vice-president Omar Abdullah termed the highway closure a mindless order.
"Driving to Uri I'm getting to see first hand the extent of disruption & inconvenience that is being caused to people because of the mindless highway closure order that is in place today," he tweeted.
National Conference president Farooq Abdullah also protested along with party workers on the national highway against the ban in Srinagar.
On social media, people posted pictures of how the order was creating problems for common masses who were forced to walk for long distances on the national highway along with young children.
The closure, of around 300-350 km of the highway, will directly affect at least seven districts of Kashmir. Hundreds of schools, colleges, banks and hospitals fall on this highway.
Late on Friday, divisional commissioner of Kashmir Baseer Khan attempted to assuage the concerns of the people by saying that there was no blanket ban on the civilian movement on the highway. "There are some exceptions to the ban like medical emergencies, students or business establishments on highway, agriculture land and horticulture orchards on highway or some spontaneous emergencies...," he said.
Close