The deceased, assistant sub-inspector Vinod Kumar, was hit by bullets as terrorists opened fire at a check post at Gangoo crossing in Pulwama from a nearby apple orchard. He succumbed to his injuries in a nearby hospital.

Published on Jul 18, 2022 01:39 AM IST
Terrorists fired upon a patrol party at Gangoo Crossing in Pulwama from nearby orchard. In the firing, CRPF's assistant sub inspector Vinod Kumar got seriously injured, police said.

Published on Jul 17, 2022 03:28 PM IST
By
HT News Desk
| Reported by Ashiq Hussain | Written by Aryan Prakash
On the evening of April 24, 2017, the 74th battalion of CRPF came under heavy firing from Maoists, barely 100 metres from Burkapal village, in which 25 personnel, including an inspector-rank officer, were killed.

Updated on Jul 17, 2022 05:00 AM IST
The accused were booked under the Unlawful Activities (Prevention) Act (UAPA) for allegedly assisting Maoists in the 2017 Burkapal attack, which killed 25 CRPF personnel.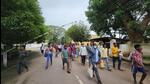 Updated on Jul 16, 2022 08:36 PM IST
A 38-year-old CRPF constable in Jodhpur, who had locked himself up in his house with his wife and five-year-old daughter on Sunday evening, shot himself on Monday, police said.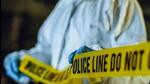 Updated on Jul 12, 2022 03:40 AM IST