Two meteorite-like objects fall from sky in Muzaffarnagar village
A villager said he saw two embers fall from the sky and land near his house with a loud bang. The objects have been sent to the Indian Institute of Sciences in Bengaluru for analysis.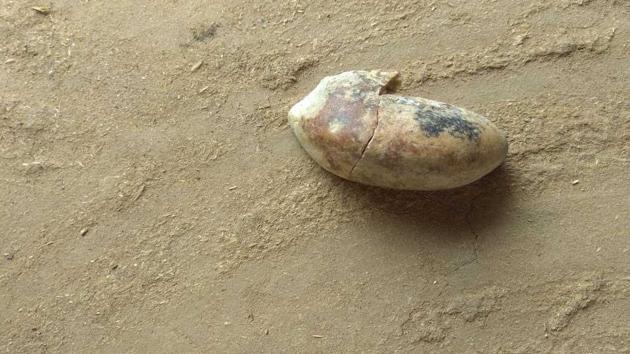 Updated on Jun 30, 2018 08:46 AM IST
Hindustan Times, Muzaffarnagar |
Vasistha Bhardwaj
Villagers in Kasoli village of Uttar Pradesh's Muzaffarnagar district have claimed two meteorites fell from the sky with a loud bang early on Thursday after heavy rains in the area.
Sub-divisional magistrate (Sadar) Kumar Dharmendra sent an official to the village, who took both the stones in his possession.
"Both the objects resembled quartz in appearance but their exact nature will be ascertained after proper analysis. The stones will be sent to the Indian Institute of Sciences (IISc) in Bangalore for analysis," Muzaffarnagar's district magistrate Rajeev Sharma said.
Mamchand Chauhan, a farmer in Kasoli, said he and his brother Sukhpal decided to sleep outside after a power cut following heavy rainfall at around 11.30pm on Wednesday. He said after some time Sukhpal saw two embers falling from the sky near their house with a loud bang.
"Both the stones were very hot and white in colour. Their outer surface had, however, turned black and brown perhaps due to overheating," Mamchand said.
The farmer said their weight might have been around 200-250 grams each. He added that other villagers also rushed to their house after hearing the sound and claimed the stones could be pieces of a meteorite.
This is not the first time a meteorite has fallen in the district.
In November 2003, a big black meteorite created a 15-inch deep crater when it landed in the village. The then senior superintendent of police Navneet Sikera sent the meteorite, which was 29cm in diameter and 11cm thick, for testing.
And in 2009, two meteorites were found in Karimpur village of the district.
A meteor is the flash of light that we see in the night sky when a small chunk of interplanetary debris burns up as it passes through the atmosphere. The debris is called a meteoroid.
If any part of a meteoroid survives the fall through the atmosphere and lands on earth, it is called a meteorite. Meteorites are generally the size of a pebble to 100 kilograms or more.
(With PTI inputs)
Topics
Close Story
Personalise your news feed. Follow trending topics