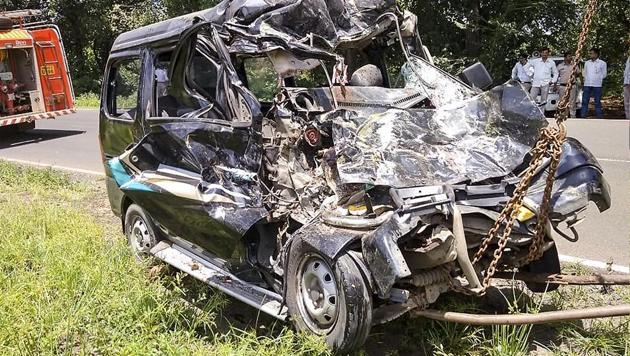 Uninsured vehicles involved in accidents to be auctioned, money to go to victims: Supreme Court
The Supreme Court has ordered all states to frame rules to ensure victims of accidents involving uninsured vehicles get compensated.
Hindustan Times, New Delhi | By HT Correspondent
UPDATED ON SEP 14, 2018 06:26 AM IST
The Supreme Court on Thursday ordered all states and Union territories to frame a rule whereby uninsured vehicles involved in fatal or non-fatal accidents would be auctioned and the sale proceeds, deposited with the Motor Accident Claim Tribunal (MACT) to compensate victims.
A bench led by chief justice Dipak Misra issued the order on a petition filed by a woman whose husband was killed and son injured in a road accident in Punjab. The petitioner sought compensation from the Punjab government because the vehicle responsible for the accident was uninsured.
The court refused to accept the petitioner's contention, but it issued the direction after being informed that Delhi in 2008 had amended the rule under the Motor Accident Claims Tribunal (MACT) to prohibit release of uninsured motor vehicles involved in accidents. Under the law, a magistrate hearing a MACT case is empowered to order the sale of the offending vehicle in a public auction.
The bench headed by CJI Misra issued the direction to chief secretaries of all the states and fixed a 12-week deadline to implement the order.
Under the Motor Vehicles Act, it is mandatory for all transport/non transport vehicles to carry a third party insurance policy so as to indemnify the victims/deceased family members in case of a road accident. But in several cases, as in the one before the top court, the offending vehicles do not have a third-party insurance policy. As a result neither the owner of the vehicle nor the insurer offers to pay compensation, leaving the victim or his or her family without any remedy.
The matter reached SC in February this year with the petitioner, Usha Devi, urging the court to implead the Punjab government as a party in the MACT case instituted after her husband died in the road accident. Her advocate Radhika Gautam took the plea that Devi should be compensated by the sate that had failed to stop an uninsured vehicle from plying.
Government vehicles are exempt from insurance. Section 146 of the Motor Vehicle Act states that there is no necessity for insurance against any third party loss if any vehicle is owned by the central government or a state government and used for official purposes, unconnected with any commercial enterprise. However, in the case of accident involving a government vehicle, the liability will be on the respective government to pay the compensation.
Close