Union Budget 2018: 'Modicare' to provide health insurance to 500 million Indians
It is the world's biggest health protection scheme by size, not budget, and will raise health cover by up to 17 times from the existing Rashtriya Swasthya Bima Yojana that caps it at Rs30,000 per year.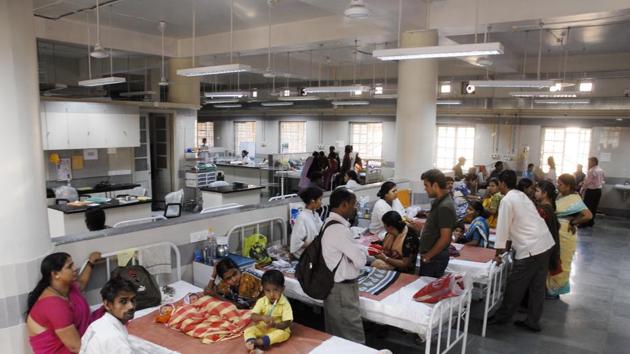 Updated on Feb 02, 2018 05:11 PM IST
The Narendra Modi government has announced a transformative public health programme offering health insurance cover of up to R 5 lakh to 100 million poor and vulnerable families, with the benefits expected to reach 500 million individuals, 40% of India's population.
"It is taking healthcare to a new aspirational level as it is going to be world's largest government-funded programme," said Arun Jaitley, finance minister, in his Budget speech about the National Health Protection Scheme (NHPS), which is being called that is being referred to as ModiCare.
It's the world's biggest health protection scheme by size, not budget and will raise health cover by up to 17 times from the existing Rashtriya Swasthya Bima Yojana (RSBY) that caps it at ₹30,000 per year. The outlay for RSBY went up from 1,000 crore in 2017 to Rs 2,000 crore this year.
Only 28.7% families in India have at least one person who is covered by some form of health insurance, according to the National Family Health Survey-4 (2015-16) . Coverage is marginally higher at 29% in rural areas compared to 28.2% urban households, largely because of public health insurance schemes for poor and vulnerable families.
NHPS was first announced in the 2016 Budget, but didn't take off. In its first avatar it offered Rs 1 lakh cover, with a top up of R 30,000 for senior citizens. "It couldn't get implemented but that scheme is now subsumed by this current scheme," said Manoj Jhalani, mission director, national health mission at the health ministry.
Once it is fully rolled out, the scheme could entail an annual premium outgo of between R 2 lakh-crore and Rs 2.5 lakh crore, but experts say money is not an immediate concern. "It's a big, bold move but I don't expect much money being spent now. The pay-out will increase year on year as more people register. All states cannot avail benefits anyway because even if you include private players, there are not enough (quality healthcare) providers in northern states," said K Sujatha Rao, former secretary, ministry of health and family welfare.
"It's the dream budget I've been waiting for 30 years. Now 50% of the population can walk into a corporate hospital with dignity and get treated for catastrophic illnesses and surgeries as a right, not charity," said Dr Devi Prasad Shetty, chairman, Narayana Health.
The sheer size of the scheme will help state governments negotiate costs of services. "The government can use monopsony purchase (negotiating power of a single purchaser to negotiate optimal price from a collection of multiple providers) to fix low prices for both medicines and essential health packages," said Dr Srinath Reddy, president, Public Health Foundation of India.
Private health insurance firms say the private sector can play a part in the roll-out. "I have to see the complete contours of the scheme but I see a role for private insurance players. When private companies carry the risk transfer, there is huge motivation to lower fraud and provide quality care at a low cost," said Bhargav Dasgupta, MD & CEO, ICICI-Lombard.
The Economic Survey flagged the rising cost of medical treatment, noting that the average cost of treatment at private hospitals was roughly four times that of what it was at public hospitals.
"After this experiment, we might expand the coverage under our Universal Health Coverage plan," said Jaitley in his speech.
That will happen only if the supply can meet the demand for services. "The idea is to offer a quality health insurance package that others may want to buy into by paying a premium," said Dr Reddy.
Quality care will come when demand goes up. "With demand going up, hospitals will come up in underserved states over the next year or two years. When people pay, they demand quality," said Dr Shetty.
Close Story
Personalise your news feed. Follow trending topics