Local influence, hold over upper caste votes: Reasons behind Sengar's clout in Unnao
Updated on Apr 13, 2018 08:13 AM IST
Sengar is a four-time MLA. In 2002, he contested assembly election as a Bahujan Samaj Party (BSP) candidate from Unnao Sadar constituency and emerged victorious.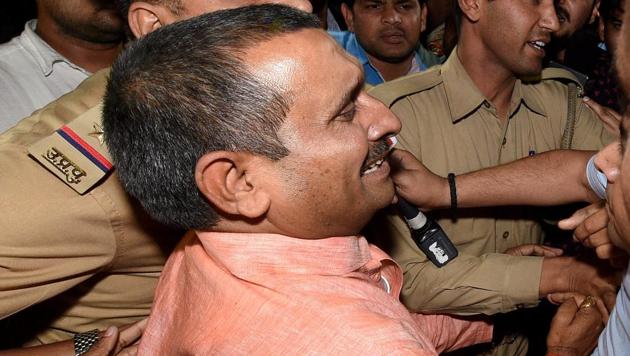 Political influence, hold over the local electorate and the upper-caste vote appear to be the reasons why Bharatiya Janata Party (BJP) lawmaker Kuldeep Singh Sengar, who is accused of raping a minor in Uttar Pradesh's Unnao, has evaded arrest, according to two senior party leaders.
One of the senior leaders, who is familiar with the developments but didn't wish to be named, said the decision on Sengar's fate was taken during a meeting of BJP chief Amit Shah with the MLAs at the residence of chief minister Yogi Adityanath on Wednesday.
"Several MLAs opposed the arrest of Sengar. They said he played a crucial role in the victory of the BJP on a number of seats, including Bhagwant Nagar represented by Vidhan Sabha Speaker Hriday Narayan Dikshit, in 2017 assembly election. He again played a key role in ensuring cross-voting by Bahujan Samaj Party (BSP) MLA Anil Kumar Singh in support of the BJP candidate," the leader said.
He said Sengar would be crucial in the legislative council elections on April 26.
"In view of the SP-BSP alliance in the election, every vote will be crucial for the BJP. In Rajya Sabha election, two incarcerated MLAs — Mukhtar Ansari (BSP) and Hari Om Yadav (Samajwadi Party) — were not granted permission to vote. The same rule will apply on Sengar once he is behind bars," the BJP leader said.
Sengar is a four-time MLA. In 2002, he contested assembly election as a Bahujan Samaj Party (BSP) candidate from Unnao Sadar constituency and emerged victorious.
He joined the Samajwadi Party (SP) in 2007 and won from Bangarmau assembly seat. Kuldeep changed his seat to Bhagwant Nagar in Unnao in 2012 and contested election as a Samajwadi Party candidate. Before the 2017 assembly election, he joined the BJP and once again won from Bangarmau seat . He was influential and held sway even when he was with the BSP and the SP.
Another senior MLA said on the condition of anonymity that the four-time MLA has exceptional hold over the Unnao region, underlining this as the reason why six MLAs met Adityanath on Wednesday to say that the MLA was being framed.
Sengar has maintained that he is innocent and has described the case as a political conspiracy.
"Sengar hails from upper caste and has the capacity of influencing results on seats falling in his region. His influence and muscle power will be required by the BJP to win Unnao seat in the 2019 Lok Sabha elections," he said.
A teenaged woman has alleged the MLA raped her on June 4 last year, and that his brother and aides attacked her father on April 3. The father allegedly died of injuries inside jail earlier this week. Sengar's arrest appeared imminent late on Wednesday evening after pressure mounted on the state government but he was told he will be contacted if needed. Since then, an FIR has been filed against him.
But despite opposition criticism, the BJP has remained defiant. "Request all to not play the judge. The case has been referred to the CBI. Let's have some patience and don't jump to conclusions," Uttar Pradesh BJP general secretary Vijay Bahadur Pathak said. BJP leaders Deepti Bharadwaj and IP Singh have also openly criticised the government and said its attitude had tarnished the image of the party.
Late on Wednesday, Sengar announced he would surrender at the camp office-cum-residence of the senior superintendent of police (SSP) in Lucknow. At night, he left for the SSP's residence along with his supporters. But he returned soon after, saying he was not guilty and his rivals had hatched a conspiracy. At midnight, the state government recommended a CBI probe into the rape case as well as the death of the woman's father in judicial custody.
Personalise your news feed. Follow trending topics