UP civic body polls: BJP wants EC to verify identities of women in burqas
Updated on Nov 24, 2017 10:04 AM IST
Opposition calls request demeaning to Muslims as ruling party defends move as attempt to check fake voters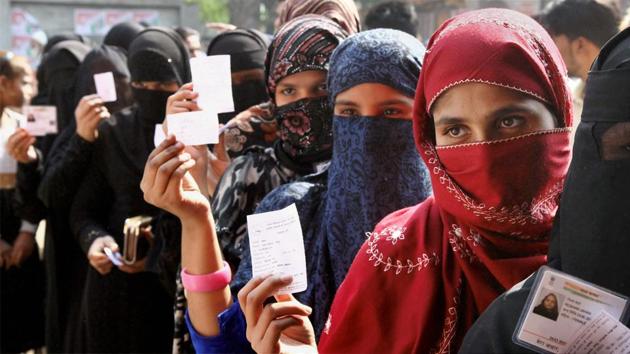 The Bharatiya Janata Party wants the Election Commission to deploy women cops to verify the identities of voters in a burqa during the remaining rounds of the urban civic elections in Uttar Pradesh, triggering criticism that the party was targeting Muslims.
The ruling party's representative approached the UP unit of the poll watchdog demanding special deployment of policewomen who would lift the veils if the party's members raised suspicion.
The burqa is worn by women as a tradition in Islam, and the Election Commission -- in a manual released in 2016 -- defines ways in which its staff can verify them while "having due regard to privacy, dignity and decency". The report makes no mention of police staff to be a part of the process.
The request comes two days after state police were seen in a viral video making a Muslim woman take off her burqa during a rally by chief minister Yogi Adityanath.
While the BJP has said the request was aimed at checking fake voting, opposition parties see a communal motive.
"BJP is jittery of its prospects and we have sent a letter to the chief election officer about how they are violating the code of conduct. They only think of divisive politics and issues," said Rajendra Chaudhary, national secretary of Samajwadi Party.
The Congress too targeted the BJP. "It's an unusual demand that we suspect has been made to make the party's voters happy. If the demand is accepted then it would mean that police would force women to remove their veil when the same could be easily done by women deployed by the election commission. This is sheer insult of women in general and minority women in particular," Congress leader Hilal Naqvi said.
The saffron party, however, has said that not all woman would be checked. "Such verification could be required in cases where our cadres suspect foul play and that is why women cops would be required at polling booths," the BJP delegation told the commission.
Uttar Pradesh is voting in three rounds to elect new representatives to urban local bodies. The first round has been held, and the other two are on November 26 and 29. Results will be declared on December 1.
Among districts with substantial Muslim populations where polling is due are Lucknow, Muzaffarnagar, Amroha, Rampur, Bahraich, Saharanpur, Baghpat, Bulandshahr, Moradabad, Sambhal, Bareilly, Ferozabad and Mau.
The BJP has fielded the largest number of minority candidates in these civic polls and is hoping that its decision to push for ban on instant triple-talaq would help it connect with progressive minority women.
Personalise your news feed. Follow trending topics