UP Civic polls: Opposition alleges tampering of EVMs
Both BSP leader Mayawati and SP chief Akhilesh Yadav raised doubts on BJP's results including AAP, who were contesting in the UP civic polls for the first time.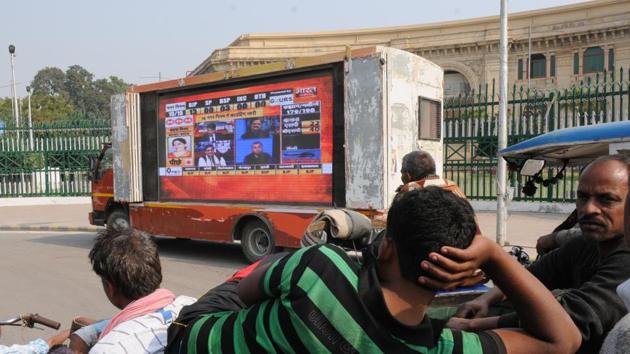 Updated on Dec 02, 2017 11:47 PM IST
Hindustan Times, Lucknow |
Agencies & HTC
A day after the BJP feted itself for winning 14 of the 16 mayoral seats in the state, allegations of bungling in voter lists and manipulation of electronic voting machines (EVMs) arose from the opposition parties.
BSP supremo Mayawati said "with full confidence" that the saffron party would lose the general elections in 2019 if ballot papers are used, instead of EVMs.
She was speaking to reporters after paying tribute to Buddhist monk Bhadant Pragyanand, who died on November 30.
"If the BJP claims that they enjoy the mandate of the people, and the entire country is with them, then they should set aside the EVMs and hold the elections through ballot paper. And, I can say with full confidence that if the 2019 Lok Sabha polls are held by ballot paper, (the BJP) will not come to power," she declared.
Elsewhere, Akhilesh Yadav, president of the Samajwadi Party, took to Twitter to point to a discrepancy in the BJP's voteshare. "BJP has only won 15% seats in Ballot paper areas and 46% in EVM areas," he tweeted.
At many places like Meerut, Kanpur and Lucknow, there have been reports of candidates who voted for themselves ending up with zero votes, raising questions about the process.
"EVMs have been tampered with to ensure victory of BJP candidates. This is clear from results of seats where ballot papers were used. The BJP's performance on EVMs and ballot papers is different," claimed senior Congress leader Pradeep Mathur.
Even the Aam Aadmi Party (AAP), a first time entrant into the UP civic polls, has raised doubts on BJP's results.
Vaibhav Maheshwari, the party's state spokesman said the BJP should definitely be worried as the urban body polls have not been "exactly in their favour", as the party was claiming.
BJP's UP general secretary Vijay Pathak however launched a counter attack on the opposition saying instead of introspecting after the results, these parties were blaming EVMs for their poor performance.
"SP was voted out of power only eight months ago and the civic poll outcome has shown that the party is on a decline. The BSP should clarify how the party won two seats of Mayor in Aligarh and Meerut if the EVMs are faulty. Both the parties are distorting facts to blame the EVMs," said Pathak. Uttar Pradesh state election commissioner Satish Kumar Agarwal refused to comment on the issue.
Close Story
Personalise your news feed. Follow trending topics