Yogi Adityanath says nothing wrong with Hindu Rashtra concept, BJP defends him
Apr 06, 2017 10:05 PM IST
Yogi Adityanath's elevation as the Uttar Pradesh chief minister drew flak from BJP's rivals because of his image of a Hindu hardliner.
Uttar Pradesh chief minister Yogi Adityanath endorsed the Hindu Rashtra theory on Thursday, saying there's nothing wrong with such a move if that serves the interests of the people and country.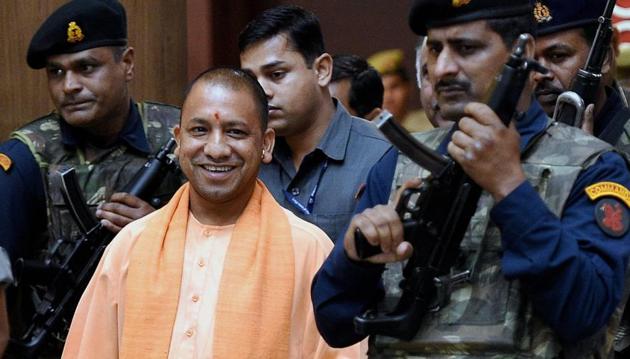 Right-wing groups led by the Rashtriya Swayamsevak Sangh (RSS) have been pitching to make India a Hindu nation, a hugely debatable topic in a constitutionally secular country of 1.2 billion people of different faiths.
"Hindu Rashtra ki awadharna kahin galat nahi hai … desh ki full bench ki Supreme Court ne iss par apna aadesh jaari kiya hai yeh. Hindutva koi mat, koi majhab ya upasana vidhi nahi hai. Balki it's a way of life (There is nothing wrong in the Hindu Rashtra concept. The Supreme Court has defined Hinduism as a way of life.)," monk-politician Adityanath said in an interview to Doordarshan.
He said no one should have a problem in accepting a Hindu nation if such a move helped people live a better life and brought joy to them.
The BJP defended Yogi's remarks saying that the chief minister had not said anything wrong.
"For far too long we have been pseudo-seculars who frowned upon anything that is Hindu. What's wrong in the CM's statement? He said that he would follow the path of peace and progress. Hinduism has always stood for peace," state BJP general secretary Vijay Bahadur Pathak said.
Adityanath, a five-term parliamentarian and head priest of Gorakhnath mutt in Gorakhpur, was appointed chief minister last month after the BJP won an unprecedented 325 seats with its allies in the February-March assembly elections in Uttar Pradesh.
"Main kisi ke mooh par tape nahi laga sakta ... mujhe jo karna hai pradesh ke hit main kaam karna hai (I can't shut people up. I will continue to work for the people.)," he said, responding to a query on negative reports in international media about his image of being a champion of Hindutva.
"My guide is the Modi government at the Centre. It's my inspiration. I will follow that."
His Hindu Rashtra line underscores the views of the RSS, the BJP's ideological mentor.
The Sangh, however, explains that its Hindu nation theory has more to do with the country's name Hindustan — a far-reaching social movement, rather than a restricted religious concept.
RSS leader Bhaiyyaji Joshi had remarked that those living in "Hindustan are Hindus", after a meeting of the organisation's highest decision-making panel in Lucknow in 2014.
His comments are a reflection of a popular RSS belief that it wants reinforced.
Former RSS chief KS Sudarshan had quoted a 1977 article from Saptahik Hindustan to make his point. He drew on an anecdote that the Shahi Imam of Delhi's Jama Masjid was asked in Mecca if he was a Hindu because "all Hindustanis were called Hindu" in Saudi Arabia.
India is a Hindu-majority country but includes 150 million Muslims, and large communities of Christians, Sikhs, Jains and Buddhists.
The BJP's landslide election victory in Uttar Pradesh, the country's most populous state that has a sizeable Muslim population, rekindled the debate over the right wing's push for a Hindu nation.