UP will become a trillion dollar economy soon, says PM Modi
Hindustan Times, Lucknow |
, Lucknow
Manish Chandra Pandey
Jul 30, 2018 01:36 AM IST
The projects or investments were part of the Rs 4.28-lakh-crore commitment made by top industrialists for UP.
Hailing the pace and scale of investments Uttar Pradesh had secured, Prime Minister Narendra Modi on Sunday said the state was set to become a trillion dollar economy.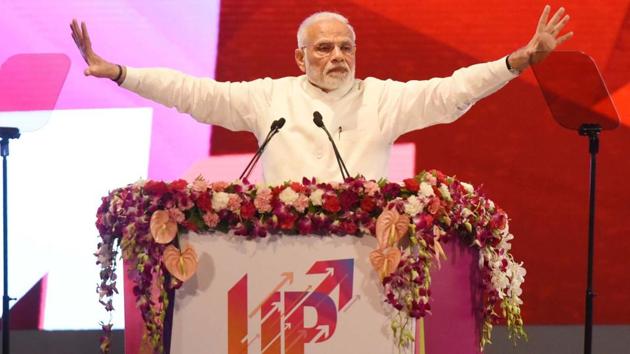 "UP is all set to be a trillion dollar economy now. There was a time when people considered investment to be a challenge but today's function is the proof of pace at which UP is progressing," he said launching projects worth Rs 60,000 crore at a ceremony in Lucknow.
The projects or investments were part of the Rs 4.28-lakh-crore commitment made by top industrialists for UP.
A total of 81 projects worth Rs 60,000 crore were formalised in the presence of UP chief minister Yogi Adityanath and Union home minister Rajnath Singh, besides others.
"Some call today's event ground breaking ceremony but I say it is a record breaking ceremony for the sheer speed in which such projects were executed to translate intent to investment," Modi said.
Terming the Rs 60,000 crore investments in just five months a great task, he lauded Adityanath and said it was the second time he was meeting industry groups in such a short duration.
"Today's Rs 60,000 crore investment is just the beginning. These investments are part of our efforts to bring speed and transparency to our actions," he said, assuring that the investments would generate two lakh jobs.
"These investments are part of our efforts to bring speed and transparency to our actions," he said.
Drawing a comparison earlier, Adityanath said that while the Bahujan Samaj Party (BSP) government could only get Rs 57,000 crore investment in five years and the Samajwadi Party government Rs 50,000 crore in as much time, the BJP government got Rs 60,000 crore in just five months.
Focus on agriculture
Thanking the farmers for giving their land for development projects, the PM said: "There is a process involved in acquisition of land and even in getting patwari's nod. I think the country can either be run by the PM or the 'patwari'," he said.
Patwari is a government officer who keeps records of landholdings.
He also urged industrialists to increase investment in agriculture which is now at about 1%.
"I have urged industry groups to form brainstorming teams to think of ways to make investments in agriculture," he said.
Development across UP
Of the Rs 60,000 crore projects the PM launched on Sunday, about 53 per cent would be started in west UP that comprises the national capital region (NCR), including Noida and Greater Noida.
East UP or Purvanchal region will get nearly 23 per cent of the investments while central UP and Bundelkhand will get 21 per cent and 3 per cent investments, respectively.
Modi said though Noida and Greater Noida were hubs of investment, which was good, the entire state should develop and new projects should come up in Meerut, Jhansi, Hardoi and other districts besides the two.
"Our former PM and leader Atal Bihari Vajpayee always said he wanted a strong India. Vajpayee had once said roads are like lines on one's palm which determine one's fate. That's why we are working on several big infrastructure projects," he said.
Power for all
Highlighting the government's achievements in energy sector, the PM said: "There was 4.2% energy deficit in 2013-14 which is now less than 1%. Power grids will not fail now due to coal shortage. In the last three years, people have saved Rs 50,000 crore in power bills. We are working for 'Power for All' by March next year. India has improved by 82 points in the World Bank's ranking on 'Ease of getting electricity'."
He said UP was focusing on power generation and working on green energy, especially solar energy. He said UP would soon become a major hub of solar energy.
Going mobile
The PM also said there was immense potential in UP's MSME sector.
"Solutions and synchronisation are keys to development and 'Digital India' and 'Make in India' are great examples of this. India is fast becoming a hub of mobile manufacturing and is ranked number two in this sector and UP is leading the change. There are more than 50 mobile manufacturing units in the state," he added.
Earlier, the PM started by invoking Lord Shiva, saying the pious month of Shravan was on and the country was blessed with good monsoons too.
"Some might have been inconvenienced by excess rainfall and the government is working towards making their lives safe and secure," he said.