US President Donald Trump to speak to PM Modi as India hopes to build on US ties
Newly inaugurated US President Donald Trump will speak to Prime Minister Narendra Modi late on Tuesday as India's hope the two nations will build on the "bedrock of strong Indo-US ties".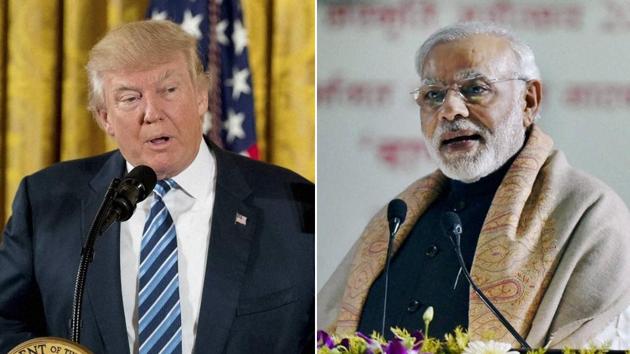 Updated on Jan 24, 2017 12:44 PM IST
US President Donald Trump will speak to Prime Minister Narendra Modi over phone late on Tuesday, the White House has said.
The two leaders are likely to have a conversation at 1pm Washington DC time, which is 11:30pm IST, as India hopes the two nations will build on the "bedrock of strong Indo-US ties".
A phone call this early is seen as a measure of the importance the Trump administration gives to India.
Modi would be the fifth foreign leader Trump would have spoken to over phone after being sworn in as the US President on January 20.
After Trump's victory in the November 8 general elections, Modi was among the world leaders who congratulated the real estate tycoon-turned-politician.
Trump had beaten seasoned politician Hillary Clinton in the knife-edge polls, defying the odds to become the 45th US President.
A day after his inauguration, Trump spoke with Canadian Prime Minister Justin Trudeau and Mexican Premier Pena Nieto. On Sunday, he spoke with Israeli Prime Minister Benjamin Netanyahu and he had a telephonic conversation with the Egyptian President Abdel Fattah el-Sisi the next day.
During his gruelling election campaign, India was among the few countries --- in addition to Israel --- with whom Trump spoke of strengthening ties if elected to power.
With Trump at the helm, New Delhi is bracing for a "bigly" world order – to use Trump's trademark adjective for huge.
The call comes soon after the US pulled out of the Trans-Pacific Partnership. By abolishing 98% of the tariffs among TPP members, there will be significant goods trade diversion — replacement of Indian exports by those of TPP members. It was estimated India was to lose 2$.7 billion in exports immediately.
Concerns remain
The US President has generally spoken positively about India. But he has also consistently denounced job outsourcing to India, even making fun of the accents of Indian call centre workers.
Nirupama Rao, a former Indian envoy to Washington, said: "India should not waste time in reaching out to Mr Trump and his team in order to establish a durable understanding that will take the relationship forwards in all sectors of relevance."
But officials admit they have yet to figure out what direction the policies of the new President will take.
The overriding view of Trump is uncertainty: he has said little of substance on foreign policy. What he said in his inaugural address, buy American, hire American is not great news for India.
If there was one leitmotif of Trump's campaign, it was his constant barrage against immigrants. It has been pointed out Trump wants a freeze on new green cards and a restructuring of the H-1B visa programme to make it harder for US firms to hire skilled workers from abroad. Indians are the primary recipients of H-1B visa.
'Strategic ally'
At a charity event organised by the Republican Hindu Coalition for the Kashmiri Pandit terror victims and the Bangladeshi Hindu victims in Edison on October 15, Trump, as the then Republican presidential nominee, had praised India's fast growth rate and Modi's bureaucratic and economic reforms.
"Under a Trump Administration, we are going to become even better friends, in fact I would take the term better out and we would be best friend," Trump had told a cheering crowd of Indian-Americans in Edison, New Jersey.
"I look forward to working with Prime Minister Modi," Trump had said, adding that the Indian leader is very energetic.
"India is key and a key strategic ally," he had said.
(With PTI inputs)
Close Story