US offers to sell THAAD defence system to India as alternative to Russian S-400s
Hindustan Times, Washington |
Yashwant Raj
May 12, 2019 09:56 AM IST
The exact date of the offer of THAAD and the PAC-3 systems to India could not be ascertained, but the offer was confirmed by multiple government agencies and people close to these discussions.
The United States has offered Terminal High Altitude Area Defense (THAAD) and Patriot Advance Capability (PAC-3) missile defence systems to India in as an alternative to Russian S-400s, a competing equipment that India has said it is close to acquiring after years of negotiations.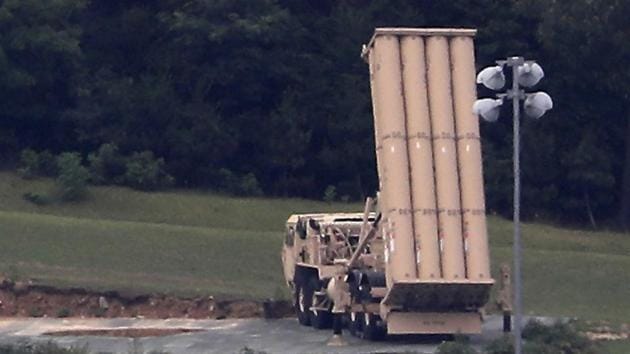 The Trump administration is understood to have made the offer some weeks ago as it simultaneously extended and reeled back assurances that India's purchase of the Russian system could not, or could, attract sanctions aimed at punishing Russia for its 2016 election meddling under Countering American Adversaries Through Sanctions Act (CAATSA).
Stay tuned with breaking news on HT Channel on Facebook.
Join Now
US officials are believed to have indeed conveyed US willingness to waive these sanctions for S-400s during the inaugural 2+2 meeting in New Delhi last September between defence minister Nirmala Sitharaman and external affairs minister Sushma Swaraj and their US counterparts. But there appears to have been some walking back in recent weeks, coinciding with Trump administration's efforts to prevent Turkey, a NATO ally, from going ahead with its own plans to buy S-400s. Saudi Arabia, another US ally, is next.
The exact cost of a THAAD defence system could not be ascertained, but according to a CNBC report, each unit can cost an estimated $3 billion. Saudi Arabia signed a deal with the US in November to buy 44 THAAD launchers and missiles - each battery comes with six launchers - for $15 billion. In comparison, India is reported to be paying $5.4 billion for five S-400s, each of which consists eight launchers.
The exact date of the offer of THAAD and the PAC-3 systems to India could not be ascertained, but the offer was confirmed by multiple government agencies and people close to these discussions.
"As a matter of policy, we do not publicly comment on or confirm proposed defense sales or transfers until they have been formally notified to Congress," said a US State Department spokesperson in response to a request to confirm or deny if a formal offer had indeed been made. It was not denied, as is clear. The State Department is the clearing house for government-to-government transfer of US defence equipment to foreign countries, through the system of Foreign Military Sales.
Though India has felt confident of getting a CAATSA waiver, as was recently reiterated by defence minister Nirmala Sitharaman, Indian officials have also sensed a walking-back on it in recent months, drawing upon, in main parts, on US insistence in public remarks that the waiver authority written into law by the Congress in 2018 only empowered the president to grant waivers and it did not offer country-specific guarantees.
James Mattis, former defense secretary, had mentioned India and Vietnam in his testimony at a Congressional hearing in which he had urged lawmakers to grant exemption powers ti the government, arguing it was needed to slowly wean long-time clients of Russian arms and weapons.
Comparisons between THAAD and PAC-3 missile defence systems with S-400s are typically slanted in favour of those behind the analysis. But the United States is pitching them as part of a larger plan of enhanced defence and security cooperation with India. As India cuts its dependence on Russian equipment — from 78% over 2009-13 to 58% over 2014-18, according to SIPRI (Stockholm International Peace Research Institute) — and switches to America, arms purchases from the United States have gone from zero some years ago to $18 billion. THAAD and PAC-3 will fit in better with other American equipment.
Turkey's planned purchase of S-400s and America's opposition to it on grounds the acquisition could expose American defence systems to the Russians is cited often by American officials as central to the Trump administration's position on allies, friends and partners opting for the Russian system. The United States has threatened to not sell Turkey F-35s, the next generation fighter jets, if it acquired the S-400s.