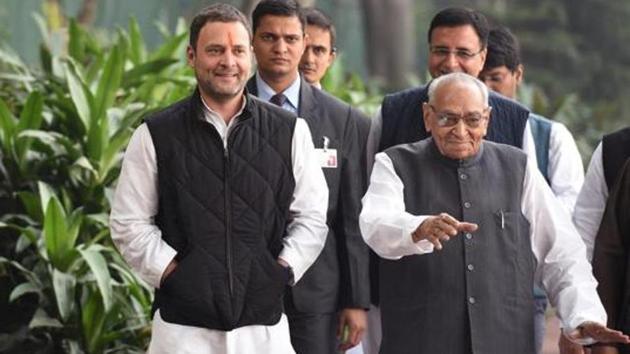 Veteran Congress leader Motilal Vora passes away
Vora, who recently recovered from Covid-19, had turned 93 on Sunday
Hindustan Times, New Delhi | By HT Correspondent | Edited by Zara Khan
UPDATED ON DEC 21, 2020 07:37 PM IST
Veteran Congress leader Motilal Vora passed away in Delhi on Monday, a day after he celebrated his 93rd birthday.
Vora, who had recovered from Covid-19 in October, was admitted to Delhi's Escorts Hospital after he complained of breathlessness on December 19.
A journalist by profession, he worked with Navbharat Times as its correspondent in Bombay (now Mumbai), then served with Navbharat in Nagpur and Raipur and later with Nagpur Times in Nagpur.
Having held one of the most important organisational post of the All India Congress Committee (AICC) treasurer for nearly two decades, Vora was appointed as the general secretary in charge of administration in 2018.
Watch l Motilal Vora passes away at 93; President, PM Modi & others pay tribute
This is when another senior leader Ahmed Patel took over as the AICC treasurer and held the post till his death on November 25 this year. He died of post-Covid complications in a Gurugram hospital.
In a party reshuffle carried out by Congress president Sonia Gandhi in September this year, Vora was not given any party responsibility in view of his advancing age.
A former chief minister of Madhya Pradesh and a former governor of Uttar Pradesh, Vora, a Gandhi family loyalist, was known for his relations across political spectrum.
He would often recall his "bumpy" car journey that led to greater familiarity with former Prime Minister Atal Bihari Vajpayee while on a tour from Lucknow to a remote village in the state during his term as the Uttar Pradesh governor from 1993-1996.
Former Uttar Pradesh chief minister Mayawati made it a point to greet the veteran Congress leader whenever she saw him in the Rajya Sabha. It was Vora who had recommended removal of Samajwadi Party leader Mulayam Singh Yadav from the chief minister's post on June 3, 1995, a day after the infamous "Guest House" episode.
Armed SP leaders and workers tried to assault Mayawati who locked herself in a room in a bid to escape the attack.
On the same day, Mayawati took oath as the chief minister with the outside support of the Bharatiya Janata Party (BJP) and the Janata Dal.
A two-term Madhya Pradesh chief minister – first from 1985 to 1988 and later in 1989, Vora also served as the union health minister in the then Prime Minister Rajiv Gandhi's cabinet in 1988-89. He retired as a Rajya Sabha member from Chhattisgarh in April this year.
During his four terms in the Rajya Sabha, Vora was appreciated for his attendance and participation.
Congress leaders would often quote Vora's tips for discretion which made him ideal for the AICC treasurer's post. "No one should be able to find any piece of paper in your office when you leave for the day," he once told a young Congress functionary.
As AICC treasurer, Vora apart from managing the finances of the grand old party would also decide on allocating the rooms at the party headquarters at Delhi's 24, Akbar Road.
It was well-known in party circles that Vora kept a strict vigil on the party functionaries at the Congress office.
Political leaders cutting across party lines condoled his death.,
Prime Minister Narendra Modi said he was saddened by his death and remembered him as a leader with vast administrative and organisational experience.
"Shri Motilal Vora Ji was among the senior-most Congress leaders, who had vast administrative and organisational experience in a political career that spanned decades. Saddened by his demise. Condolences to his family and well-wishers. Om Shanti," he tweeted.
Former Congress president Rahul Gandhi said he was a true congressman and a wonderful human being. "Vora ji was a true congressman and a wonderful human being. We will miss him very much. My love & condolences to his family and friends," he tweeted.
Topics
Close