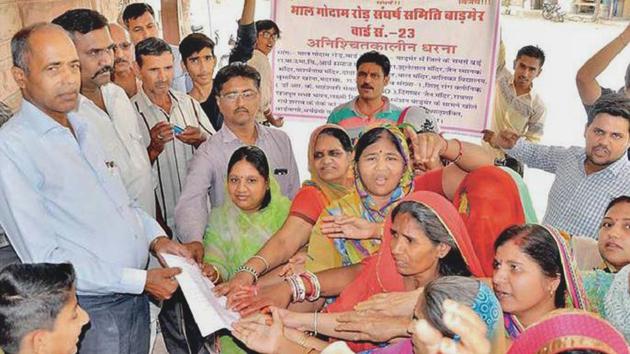 Wary of nearby wine shop, parents threaten to pull girls out of school in Barmer
Parents have threatened to pull out their daughters out of school in Barmer if a wine shop nearby is not closed down. Authorities have temporarily shut the shop because of strong public sentiments against it.
Hindustan Times, Barmer | By Mukesh Mathrani
UPDATED ON MAY 03, 2017 08:05 AM IST
Parents of 1,054 students have threatened to pull their children out of a government girls' senior secondary school in Barmer if a nearby wine shop is not removed by May 4.
Local residents also started an indefinite dharna in front of the liquor shop four days ago demanding its closure, forcing Barmer district collector Sudheer Sharma to order its temporary closure.
At a meeting of the school development management committee (SDMC) on Monday, parents said that if liquor shop is not removed by the deadline -- the day when results of the 2016-17 session are expected be declared --they would have their daughters removed from the school.
Earlier on Sunday, women protesters forcefully entered the liquor shop and asked the shop owner to close it. Some protesters also tried to vandalise the shop before police evicted them.
A delegation of women protestors had also met chief minister Vasundhara Raje in Jodhpur on Sunday to lay down their demands. Protestors claimed said that the CM assured them of directing authorities over liquor stores not being operated open near the school.
But district collector Sharma said that there was no such direction yet. He quoted excise department officials saying that all norms were followed for the opening of the wine shop. Sharma said considering the protest, they are planning to explore another location for the liquor shop.
Strong sentiments against liquor stores in the region, particularly in residential areas, have become a worry for the excise department. Only seven of a total 11 permitted shops in Barmer city have opened recently.
Close