Darjeeling student kills himself, role of online killer game suspected
Aug 23, 2018 09:52 PM IST
The case reminds of the hysteria last year over deaths by young people in different parts of the country, who were said to be playing online game Blue Whale
An 18-year-old student from Kurseong in the Darjeeling hills was found hanging in a secluded area with words like 'Illuminati', 'hanged man' and 'devil's one eye' inscribed on the wall. The police on Thursday said it was investigating whether the child became victim of an online game following a complaint by his parents.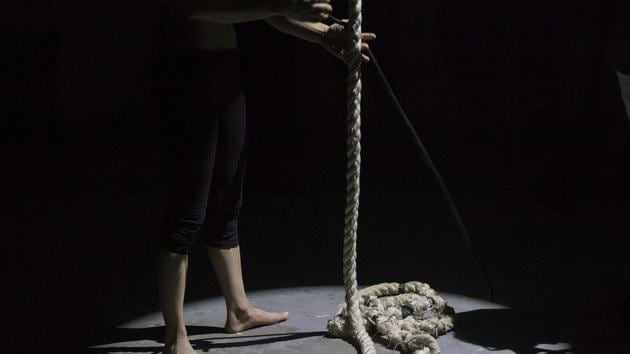 The case reminds of the hysteria last year over deaths by young people in different parts of the country, who were said to be playing online game Blue Whale, through the police investigation in these cases failed to link that the game to the deaths.
Manish Sarki, a class 12 commerce student of private school was found hanging inside a livestock shed, a short distance away from his home on Monday night. He had gone missing on August 20. The police are examining the sketches and words like "Hanged Man", "Illuminati", "Doped Up", "Metal" and the name of a girl painted inside the livestock shed.
These have graffiti had raised suspicion that the boy killed himself following the instructions from the game.
"We are trying to unlock the phone of the boy. Once we are able to do it, we might get vital clues on the reason of the suicide. Manish was found hanging inside a livestock shed on the night of August 20," said Harikrishna Pai, additional superintendent of police, Kurseong.
"I had seen Hanged Man, the drawing Manish painted, in the Momo app. The game is responsible for his suicide," said Arjun Ghatani, Sarki's cousin and a class 10 student. Another friend Imon said he had told teachers that Sarki always hid something from them while using his mobile phone.
Sarita Sharma, a teacher of St. Alphonsus School said, "A few of Manish's friends also played the Momo Challenge but withdrew themselves after sometime."
"My son was sincere, hardworking and innocent. He used to play online games. I strongly believe that Momo Challenge took him away from us," said Chandra Maya Sarki, the mother of the victim.
Pai said: "Soon we will start a campaign in schools and villages on the perils of playing virtual dangerous games."
On July 31, Chhavi Sharma, 15, killed herself in Ajmer's Beawar town with her brother alleging on August 23 that she killed herself as part of a Momo challenge. Ajmer superintendent of police Rajesh Singh on Thursday said they have started investigating the Momo challenge angle following families allegation.
Momo is a social media account on WhatsApp, Facebook, and YouTube, which uses the image of a horror artwork called Mother Bird to induce curiosity among children, challenging them to communicate with an unknown number failing which threat messages and horror pictures are sent.
After the victims are enticed to contact a Momo account, they receive graphic threats and are instructed to perform a series of dangerous tasks. The game relies on threats to get the victims to perform tasks.