When caste outdoes a medical degree: Dalit doctors face discrimination in TN
Updated on Nov 07, 2016 02:44 PM IST
Dalit docors in Tamil Nadu speak about their ordeal of being discriminated against because of their caste.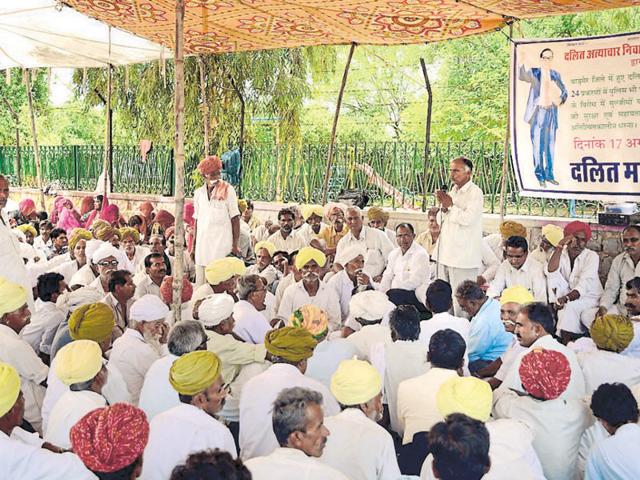 GRIST media |
Kavita Kishore
Until recently, Kannan (name changed to protect identity), a Dalit, was the leading gynaecologist in his town near Pudukottai district, Tamil Nadu. He was the person the village leaders and the poor sent their wives to for delivery. His practice was booming and people from other castes would call him 'thambi' (younger brother in Tamil). The entire town was proud of him or so he thought. All this changed one fateful day, around three months ago.
The 45-year-old doctor was asked to perform an abortion and hysterectomy for a young widow belonging to the Thevar (OBC) caste. "The case was very risky and I was tempted not to take it up, but the family convinced me that the girl's life would be ruined if people found out she was pregnant, so I went ahead," he said. During the surgery, there were a few complications, and the patient had to be taken to Madurai for intensive care. Once she got back home, however, things changed. The girl convinced her family that Dr Kannan had removed her kidney during the operation. This was when everything went haywire.
His clinic and house were mobbed by hundreds of people. They were all yelling casteist slurs while pelting his house with stones. "My family was under threat, and the people attacking us were saying I stole her kidney because I was a Dalit and the entire caste should not be trusted. My staff, wife and children were injured in the violence," he says. The police intervened, and the crowd was calmed. "Only then did anyone think of taking an ultrasound of the girl to check if the girl had really lost a kidney," he says. By the time they determined both kidneys were intact, the damage had already been done. Dr Kannan is determined never to practice medicine again, and he is now contemplating leaving town and hiding his caste identity.
"If I were a non-Dalit doctor, things would have been different. If I belonged to the same caste as the girl, I wouldn't have been harassed in this way and my family wouldn't have had to face this kind of violence," the doctor says.
According to another Dalit doctor, N Periyasamy, an anaesthesiologist at the Government Hospital in Trichy, there are a number of people who are hesitant to be treated by a Dalit doctor, even if they know that the doctor is extremely competent.
N Jayaraman, a dental surgeon from Pudukkottai, talks about his experience as a Dalit student at Madras Medical College in 1983. "I had a professor who would deliberately undervalue my papers and even failed me once," he says. He took the matter to court and passed. "In the last 30-odd years, there has been little change in the mindset of people," he says. When it comes to a Dalit doctor, there is discrimination, whether it is in a government hospital or in private practice, he adds.
Read | The great Dalit cauldron and why it matters
G Naveen Kumar's father is a Dalit, while his mother is Brahmin. "I barely had any family support when it came to my education, but I thought I could overcome all of that," he says. He studied medicine at the Dharmapuri Government Medical College and says that even though there was no real discrimination when it came to academics, his extracurricular activities were another issue altogether. "While students and professors never openly discriminated against me, I could see subtle opposition. Initially, I thought it was because my ideas were not getting across to my peers, but it was only later when people would make derogatory remarks about my caste that I realised that that was the issue," he says.
When he then set up a private practice near his village of Villianur in Villupuram district, he began to face discrimination openly. "My village has a majority Dalit population and I have seen patients' faces change when they realise I am from this village," he says. There have been a number of patients who have not come back for a second consultation once they find out his caste, he adds.
"For a young doctor to lose patients because of his/her caste is extremely disheartening. Sometimes I wonder if I should give up the medical profession. If this is the case in 2016, I cannot imagine the kind of discrimination that happened earlier," he says.
Ezhilan Naganathan, a general physician from Chennai and social activist who did not want his caste mentioned, however, says there is not much discrimination in bigger cities. "I have heard of patients who only prefer to go to doctors of their own caste, but I have not seen that kind of discrimination in Chennai," he says. He also adds that caste-based discrimination happens mainly with elective procedures. "When there are emergencies, patients do not care what caste their doctors are but when they have a knee replacement, for example, they will make sure they only see doctors of their own caste," he says.
This discrimination is not just in the case of choosing a doctor. N Prabhu, who operates the Uyirthuli blood donation group and did not wish to specify his caste, maintains a register of blood donors for this kind of emergencies. "When we get requests for a rare blood group donor, often patient's relatives will ask us to determine the caste of the donor before bringing him or her to the doctor. These cases are often emergency cases, and although we deny such requests to determine the caste, there have been a couple of cases where the donor has been sent away by the patient's family," he says.
Has conversion helped?
While caste discrimination continues to be a problem in the medical field, doctors, nurses and other medical professionals are trying their best to avoid this discrimination.
While many Dalit doctors continue to work despite the caste bias, many others are trying to find a way out. Earlier this month, the Makkal Medical Team, a group of around 400 Dalit doctors from the state who are trying to overcome the oppression brought about through Hinduism, conducted a mass conversion function. Over 40 Dalit doctors from different districts in Tamil Nadu converted from Hinduism to Buddhism. "We are all followers of Ambedkar and have decided to embrace the form of Buddhism propagated by him," Dr Periyasamy says. This is the first round of conversions and the team is planning to conduct more such events in the future.
Read | Dalit capitalism's moment has arrived
According to Adhavan, a Dalit rights activist from Hosur, Dalit conversions to Buddhism have happened for several decades now, but it is now gaining popularity, especially among followers of Ambedkar. "BR Ambedkar is famous for saying that he was born a Hindu, but he would not die a Hindu," Adhavan explains. After years of research into various religions, he finally settled on Buddhism. The Buddhism Ambedkar embraced does not follow the Mahayana or Hinayana schools of thought, and is often called 'Neo-Buddhism', which believes that there is no caste or karma. The first mass conversion to Buddhism happened in 1956 in Nagpur where Ambedkar and his followers embraced Neo-Buddhism. Every year on Buddha Poornima, a number of Dalits from across the country travel to Nagpur to convert to Buddhism. Similar functions are held across the country. "It is estimated that there are over 20 lakh Neo-Buddhists in the country," Adhavan says.
"The discrimination that many Dalits face is very subtle. It is the kind where only the offender and the victim realise that anything is amiss," Adhavan says. It is this kind of subtle discrimination that has driven many people to convert from Hinduism so they are offered the protection of their new religion.
Dr Jayaraman has made a choice not to convert from Hinduism, so he says hiding his caste is a lot more difficult. "Many Christian and Muslim Dalit doctors hide their caste because of the protection their religion offers them. Despite this, they often find people enquiring whether they are Dalit or not," he says.
James (name changed on request), a general physician from Puducherry, says he has tried to hide his caste for years. "I am originally from Tamil Nadu, but I moved to Puducherry because the caste bias is a little less here. Most people do not know I am a Dalit, and I would like to keep it that way," he says.
There are a number of doctors like James, including several prominent hospital owners. An owner of a prominent hospital in Chennai speaks of how he spent years trying to bury his caste identity. "It is not because I am shy of being a Dalit, it is because many things like acquiring land, hiring doctors and other medical staff, and even hiring contractors to build the hospital become much more difficult when people know you are a Dalit," he says.
For many of the doctors, however, this tactic does not really help either, Dr Jayaraman says. His organisation, the Ambedkar Periyar Karl Marx Cultural Association has been fighting against oppression for several decades now. "For every doctor who has tried to hide their caste, there are around 20 patients who make it their job to determine their caste identity. I have known of at least four Dalit doctors who are forced to pack up their practice and move every few years because someone finds out they are Dalit and then they start losing patients," he says.
Conversions and why there aren't protection enough
As per the 2011 Census, Scheduled Castes make up around 21% of the state's population, and the socio-economic and caste census has found that in rural Tamil Nadu, 25.55%of the households are Dalit.
Around 65% of the Christian population in the state is Dalit. According to Patrick Felix of the Dalit Christian People's Federation, in many villages, the Nadars, Vellallars (both OBC castes) and Dalits have separate churches, because non-Dalits cannot imagine praying in the same church as Dalits. Even Dalit priests are treated much worse than non-Dalit priests, Felix says. "Among the 110 Roman Catholic churches in the Madras Diocese, there are only around 20 Dalit priests, even though the majority of the congregation is Dalit," he says.
Read | Hope and caution in Dalit leader Jignesh Mevani's rise
For Dalits who have converted to Islam, too, the discrimination continues. The most famous example is from Meenakshipuram, a village in Tirunelveli, where a group of 300 Dalit families converted to Islam in 1980 to escape oppression. These families, too, say that there is not much change in the way people view them, even though they are no longer Hindus.
According to Adhavan, Dalit Buddhists have a different set of problems. "Unlike Christianity or Islam, people following Neo-Buddhism are able to keep their Scheduled Caste reservation. Unlike with Christianity and Islam, however, there is no real count of how many people have converted in the last 60 years, and no studies to show whether there is any progress, or if they are able to shed their caste identities through Buddhism."
Dr Ezhilan, who founded IlaignarIyakkam, a youth organisation that believes in educating school children about caste oppression and other social issues says that conversion may work to temporarily resolve the issue. "Unless there is a deep-rooted social change, it will be difficult to bring about a change in this caste-based oppression," he says.
(Published in arrangement with GRIST Media)