Kuldeep Singh Sengar, BJP MLA accused of raping Unnao girl, has a history of switching sides
Kanpur, Hindustan Times |
, Kanpur
Haidar Naqvi
Apr 11, 2018 07:38 AM IST
BJP MLA Kuldeep Singh Sengar, accused of raping an 18-year-old girl last year, has earned the reputation of a 'bahubali' politician by siding with whichever party is in power.
Kuldeep Singh Sengar, who is in the eye of a storm for allegedly raping an 18-year-old girl last year, is currently affiliated to the Bharatiya Janata Party (BJP). However, that hasn't always been so.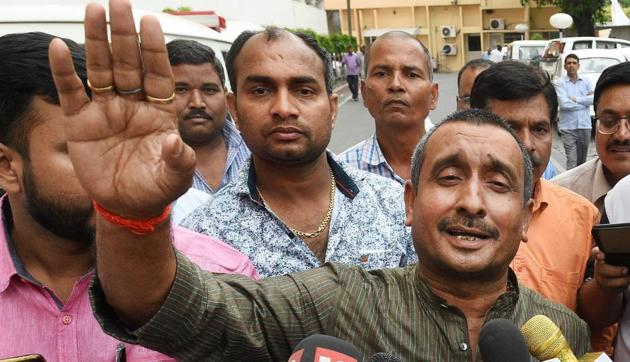 Over the years, the 51-year-old MLA from Bangarmau in Unnao, has earned the reputation of a 'bahubali' politician by siding with which ever party is in power. The four-time MLA has switched sides and seats every time he has contested an election.
Kuldeep passed his Class 12 exams from Raja Shankar Sahay Inter College in Unnao. He started his political career with the Congress and became the pradhan of Makhi village in Unnao in 1997-98.
In 2002, he contested assembly elections as a Bahujan Samaj Party (BSP) candidate from Unnao Sadar constituency and won.
In 2007, he joined the Samajwadi Party (SP) and won from Bangarmau assembly seat.
Kuldeep again changed his seat to Bhagwant Nagar in Unnao in 2012 and contested the election as a Samajwadi Party (SP) candidate.
Before the 2017 assembly election, he joined the BJP and once again won from the Bangarmau seat.
The BJP fielded senior leader Hriday Narayan Dixit from Bhagwant Nagar seat.
He has also brought his family into politics. His brother Manoj Sengar has won a local-level election. Kuldeep's wife Sangeeta was elected chairperson of the Unnao zila panchayat during the SP regime, a position she still holds.
"Kuldeep has positioned himself as a prominent Thakur leader in Brahmin-dominated Unnao. He has a good hold on Muslim votes and also enjoys the support of other upper castes. He has considerable support among lower caste voters too. His formula to win the election is high social presence," said Unnao-based political analyst Shailendra Shukla said.
While Kuldeep is a full-time politician, his brothers Manoj and Atul work to maintain his image of a 'bahubali' leader, a police officer posted in Unnao said. Both Manoj and Atul have criminal cases against them.
The family also runs jewellery businesses in Unnao and Kanpur. "His family is feared in the region because of Manoj and Atul, who manage the muscle and money power of the family," the police official said on condition of anonymity.
Atul rose to infamy in 2004, when he allegedly shot at the then additional superintendent of police Ramlal Verma following a dispute with him.
A case was registered against him at Ganga Ghat police station, but the police officer chose to arrive at a compromise within five days of the incident, a police official said.
Verma was shot at when he was reportedly trying to stop illegal mining, he added.
Atul's name also cropped up in another case where he allegedly opened fire on the father of a journalist working with a Hindi newspaper in Danakhori area of Unnao in 2014.
Atul has four cases against him in Unnao and one in Kanpur. His brother Manoj also has criminal cases against him.