Why BJP changed strategy, chose Prem Kumar Dhumal as its CM candidate for Himachal Pradesh
There were at least four claimants for the post, but few calculations and feedback over last 10 days made BJP brass realise that Dhumal was its best bet for Himachal Pradesh.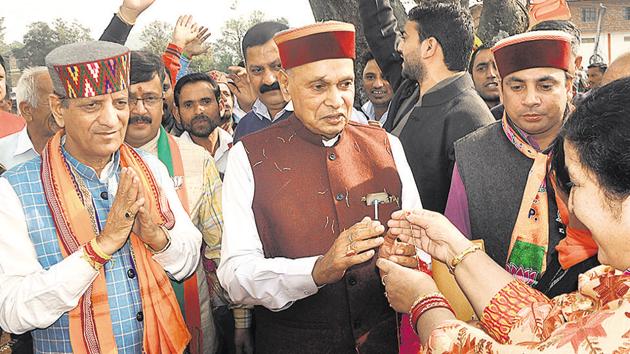 Updated on Nov 01, 2017 10:29 PM IST
Ear to the ground, a belated realisation, and some behind the scene manoeuvring prompted the Bharatiya Janata Party to prop up veteran Prem Kumar Dhumal as its chief ministerial candidate in Himachal Pradesh on Tuesday.
The need to inject enthusiasm among BJP workers, who were confronted with confusion about the face, and keep the house united was the most compelling reason behind the last minute change in the strategy — from the earlier position of not declaring a CM candidate.
Few calculations on the drawing board and a feedback taken over last 10 days made the BJP leadership realise Dhumal was their best bet, a party leader involved in Himachal Pradesh election told the Hindustan Times.
There were at least four claimants for the chief minister's post.
Kangra strongman Shanta Kumar, 83, was ruled out, given that he has passed the undeclared age bar of 75 in the BJP to take up ministerial jobs. His 'anger' at being sidelined had cost the party dearly in the 2012 assembly election. The BJP could win just three out of 15 assembly seats in Kangra, as rebel candidates played spoilsports.
Kumar threw some tantrums ahead of ticket distribution this time as well but BJP chief Amit Shah and his managers swung into action well in time. Kumar was taken on board and his men got tickets. So far so good.
BJP's state president Satpal Satti also got edged out following poor ratings in the surveys commissioned by the party.
The saffron party's organisational secretary for northeast Ajay Jamwal, a leader from Himachal, was considered a dark horse but he needed a three-year break from his current responsibility as a Rashtriya Swayamsevak Sangh (RSS) pracharak (volunteer) to take up a political role.
Jamwal was not known as a public figure either and faced strong opposition from established leaders of the hills.
That left the BJP with two options — Dhumal and Union health minister JP Nadda.
Between them, Dhumal came from a dominant caste of Thakurs who are over 28% of the state's population. Dhumal is a two-time chief minister and a known figure in the hill state, who also commanded support among the decisive majority of sitting legislators. Most of those who got a ticket this time were also his loyalist.
Dhumal and Nadda both come from lower Himachal, an area with a greater number of assembly seats than upper Himachal. But the former chief minister figured higher than Nadda in popularity ratings in party surveys and feedback from the state leaders confirmed it.
Nadda, a suave Brahmin leader with ABVP background, lost out to Dhumal with the party realising that his projection may also turn the majority community against the BJP. Congress' CM candidate Virbhadra Singh too is a Thakur.
The Union minister is not considered a mass leader and has the reputation of being an organisational man, a role that he will play in the upcoming elections.
The assembly poll in the hill state is scheduled on November 9 and results will be declared on December 18.
Close Story