Will ask Centre to 'make an exception' and allow foreign aid: Alphons on Kerala
Aug 23, 2018 11:31 PM IST
Union minister KJ Alphons urged the central government on Thursday to "make an exception" for Kerala after the Centre refused to accept Rs 700 crore in relief offered by UAE
Union minister KJ Alphons urged the central government on Thursday to "make an exception" for Kerala after the Centre refused to accept Rs 700 crore in relief offered by the United Arab Emirates for the state, where more than a million people have been displaced and over 200 people killed in the worst flood in a century.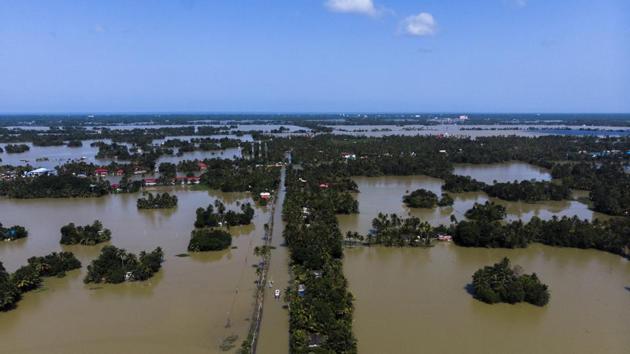 A political row broke out on Wednesday after the Centre said it was against India's policy to accept foreign aid in such cases. The country has refused offers of financial assistance from foreign governments since a tsunami struck in 2004.
Stay tuned with breaking news on HT Channel on Facebook.
Join Now
Alphons said the current government had followed a 14-year convention it "inherited" from previous governments of not accepting such assistance in the face of natural calamities. "I am pleading with my people and senior ministers that please make an exception for Kerala accept fund from abroad. The government is free to take a decision in the interest of the country," the minister said.
The ministry of external affairs earlier said it "is committed to meeting the requirements for relief and rehabilitation through domestic efforts". It, however, added that individuals and foundations were welcome to send donations to government relief funds.
The Centre's decision to turn down the UAE offer has come in for criticism from Kerala's political parties. "It is only natural for nations to help each other," said chief minister Pinyari Vijayan, as residents began long road to recovery, returning to their homes amid fears of outbreak of diseases amid receding floodwaters. Vijayan said the Narendra Modi-led government must either accept the UAE aid or compensate the state by that amount.
Alphons, the Union minister for tourism, said: "Now, the issue is whether we can change this policy? My stand is very clear. Kerala needs billions of dollars for reconstruction. Many people are in the relief camps and over 2 lakh houses have gone under water," he said.
"There are two possibilities. One is that Indians should contribute a huge amount of money but how much of voluntary collection will come I don't really know. Let the Indians contribute generously, not just the old clothes which they want to pass on. The other possibility is to take funds from abroad," he added.
Torrential rain began in the state on August 8 and relented only earlier this week, leaving behind a trail of destruction, mud-covered houses, and shortage of electricity and clean drinking water. While the central government announced Rs 600 crore in assistance, Vijayan sought a package of Rs 2,600 crore for relief and rehabilitation. Kerala has estimated that the massive floods caused a loss of more than 20,000 crore to the state.
The ruling Left-government and the Opposition Congress in the state have urged the Centre to change the rules to facilitate foreign aid to the state.
Vijayan said he would talk to the Prime Minister over the issue. "Our people contributed immensely in building that nation (UAE) so it cannot be considered as a different country. There is a strong emotional boding between two nations," he said.
Pakistan Prime Minister Imran Khan added to the list of nations offering aid to India on Thursday. "On behalf of the people of Pakistan, we send our prayers and best wishes to those who have been devastated by the floods in Kerala, India. We stand ready to provide any humanitarian assistance that may be needed," the newly sworn-in Pakistan PM, who has spoken about the importance of peace efforts in the region, tweeted.