'Will pay for sins': Arun Jaitley targets Congress after Sajjan Kumar conviction
Hindustan Times, New Delhi |
HT Correspondent
Dec 17, 2018 04:17 PM IST
Sajjan Kumar was sentenced to spend the remainder of his life in the national capital's Tihar jail by the Delhi High Court, which convicted him for involvement in the 1984 anti-Sikh riots
Congress leader Sajjan Kumar's conviction for the anti-Sikh massacre in the national capital 34 years ago is a delayed vindication of justice, BJP leader and finance minister Arun Jaitley said in his first reaction on the Delhi high court verdict, reversing the trial court's acquittal of the Congress leader.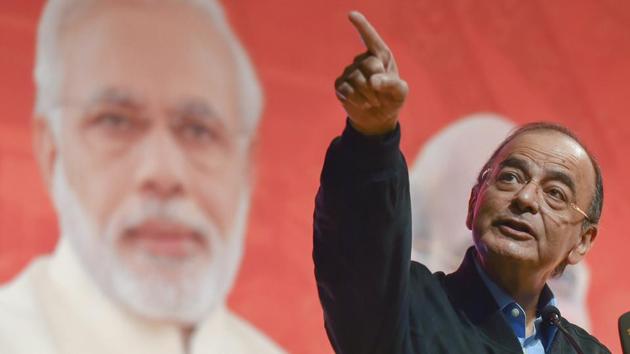 Jaitley also targeted the Congress and the Gandhi family, accusing them both of trying to prevent the victims of the massacre from getting justice.
"Sajjan Kumar's conviction by the Delhi High Court is a delayed vindication of Justice. The Congress and the Gandhi family legacy will continue to pay for the sins of 1984 riots," Jaitley said.
"Justice for the victims of 1984 was buried by the Congress – the NDA restored fairness and accountability," he said.
"The irony is that this judgment has come on a day when the Congress is swearing in a politician, who the Sikh community believes to be equally guilty, as a chief minister," Jaitley told ANI in reference to Kamal Nath who has been selected to be the chief minister of Madhya Pradesh.
Union minister Prakash Javadekar described the conviction as a "jolt" for the party and demanded action against Madhya Pradesh Chief Minister Kamal Nath for his alleged involvement in the riots.
Leaders from the Aam Aadmi Party, the BJP and the Punjab Congress Committee have also welcomed the conviction.
"Yes, justice has been delayed but delivered finally. Nobody is above law and anyone who is involved in such a heinous crime should be brought to justice," Punjab Congress chief Sunil Kumar Jakhar told reporters outside Parliament.
He, however, underlined that Congress leader Kamal Nath's name never figured in the list of those involved in the riots.
The riots, in which thousands of Sikhs were killed, broke out after the assassination of prime minister Indira Gandhi by her Sikh bodyguards on October 31, 1984.