Congress' Sajjan Kumar convicted in 1984 Sikh riots, gets life term
Hindustan Times, New Delhi |
Richa Banka
Dec 17, 2018 11:25 PM IST
On October 29, the court had concluded hearing arguments on the appeals filed by the CBI, riots victims and the convicts, and had reserved its judgement.
The Delhi high court sentenced Congress leader and former Parliamentarian Sajjan Kumar, 73, to life imprisonment for his role in the 1984 anti-Sikh riots in Delhi, overturning a 2013 order of a lower court that acquitted him in a case related to the death of five members of a Sikh family in Raj Nagar that is now situated in Delhi's Palam Colony and the burning of a gurdwara on November 1 and 2, 1984, in response to then Prime Minister Indira Gandhi's assassination by her Sikh bodyguards on October 31 that year.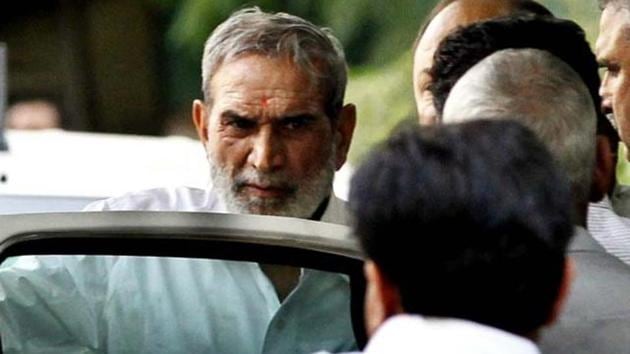 Kumar has been asked to surrender before December 31 and not leave the city. He wasn't immediately available for comment but his lawyer, Anil Sharma, said Kumar would appeal the verdict in the Supreme Court.
The Congress responded both defensively and offensively to the verdict, with one of its leaders, Abhishek Singhvi, saying such issues should not be politicised while another, Kapil Sibal, sought to draw a parallel between 1984 and the Gujarat riots of 2002.
"Kumar's conviction is not a political issue," Sighvi said.
"The cases have been on for over 20 years and there have been several convictions and acquittals. This should not be seen in a political context and people should not try to seek political mileage from it," he added.
"Sajjan Kumar doesn't hold any office nor was given ticket by the party to contest polls, whereas the BJP leaders who were involved in the [Gujarat] riots have been given positions of power. The one who was the chief minister then has become the Prime Minister now," Sibal said.
The Bharatiya Janata Party (BJP) was quick to latch on to an opportunity to embarrass its rival, especially because the verdict coincided with the swearing in of the Congress's Kamal Nath as the Madhya Pradesh chief minister whose name has been brought up in connection with the riots of 1984.
Senior BJP leader and Union finance minister Arun Jaitley said it was an irony that "the verdict has come on a day when a Congress chief minister, who is held culpable by the Sikh community, is taking oath".
Nath, however, alleged that the issue was being politicised. "There is no case against me. There is no FIR or chargesheet against me."
"No one ever had any doubt on Congress's role in the 1984 anti-Sikh riots. Their leaders and workers went on rampage raising provocative slogans, raping women and murdering men in cold blood. Yet no one was ever punished despite multiple commissions and several eyewitnesses," said BJP president Amit Shah. He also pointed to the 2015 setting up of a special investigation team (SIT) by the National Democratic Alliance (NDA) government to look into the 1984 riot cases. The SIT?ordered 241 cases to be closed and found 12 worthy of re-investigation. The Supreme Court set up another SIT earlier this year to look into the cases of 1984.
Monday's HC order wasn't a consequence of an SIT case, though, but an appeal filed by the Central Bureau of Investigation (CBI) and family members of those killed in Raj Nagar that day when Delhi burned. Out of the six accused, Kumar was acquitted while five others were convicted for armed rioting and murder. The five convicts had appealed their conviction and quantum of sentence in the high court, which was upheld on Monday.
Delivering the order, the HC said the "mass killings of Sikhs" between November 1 and 4, 1984, in Delhi and the rest of the country was "engineered by political actors with the assistance of the law enforcement agencies".
The pathos of the moment — justice being delivered 34 years after a crime — wasn't lost on justice S Muralidhar who teared up while pronouncing the judgment of a bench comprising himself and justice Vinod Goel. Several lawyers involved in the case, including senior advocate HS Phoolka, who has been at the forefront of the fight to get justice for the survivors of 1984, broke down in the packed court room too. The witnesses and petitioners also turned emotional.
The bench held that the riots were a "crime against humanity" and "were engineered by political actors with the assistance of the law enforcement agencies."
"While it is undeniable that it has taken over three decades to bring the accused in this case to justice, and that our criminal justice system stands severely tested in that process, it is essential, in a democracy governed by the rule of law to be able to call out those responsible for such mass crimes," the bench said in a 207-page judgment.
Also read| Victims of mass genocide can't be left in a lurch, says judge in 1984 anti-Sikh riots case
The bench also referred to the challenges in dealing with such cases, and referred to other riots — in Mumbai in 1993, Gujarat in 2002; Kandhamal, Odisha in 2008, and Muzaffarnagar in Uttar Pradesh in 2013 to name a few.
"There has been a familiar pattern of mass killings in Mumbai in 1993, in Gujarat in 2002, in Kandhamal, Odisha in 2008, in Muzaffarnagar in U.P. in 2013 to name a few. Common to these mass crimes were the targeting of minorities and the attacks spearheaded by the dominant political actors being facilitated by the law enforcement agencies" it said in its judgment.
The people involved in these "mass crimes have enjoyed political patronage and managed to evade prosecution and punishment. Bringing such criminals to justice poses a serious challenge to our legal system. Decades pass by before they can be made answerable. This calls for strengthening the legal system," it added.
The bench also slapped a fine of ~1 lakh on Kumar while upholding the conviction of other accused, namely former Congress councillor Balwan Khokhar, retired naval officer Captain Bhagmal, Girdhari Lal and former MLAs Mahender Yadav and Kishan Khokhar.
The court also added that the accused were brought to justice primarily on account of the courage and perseverance of three eyewitnesses — Jagdish Kaur whose husband, son and three cousins were the five killed; Jagsher Singh, another cousin of Jagdish Kaur; and Nirpreet Kaur who saw the Gurudwara being burnt down and her father being burnt alive by the raging mobs.
A key witness, Jagdish Kaur, told the court during the hearing that she saw Kumar addressing a crowd on November 2, 1984, and inciting people to kill all Sikhs and those giving them shelter.
This is the second conviction in just over a month in the 1984 anti-Sikh riots case. On November 20, additional sessions judge Ajay Pandey had awarded death sentence to Yashpal Singh and life imprisonment to Naresh Sehrawat for their role in the riots in South Delhi's Mahipalpur area. That case was re-opened by the SIT constituted by the NDA government in 2015.
Justice Muralidhar, the author of the judgment, started the verdict with a poem from famous Indian poet Amrita Pritam who had to flee from Lahore with her two little children during the partition.
"Seeds of hatred have grown high, bloodshed is everywhere / Poisoned breeze in forest turned bamboo flutes into snakes /Their venom has turned the bright and rosy Punjab all blue".
Also read | 'Will pay for sins': Arun Jaitley targets Congress after Sajjan Kumar conviction