Will push Green Development Pact at G20: Jaishankar at Global South Summit
Published on Jan 14, 2023 12:28 AM IST
India's G20 priorities include a "Green Development Pact" with a roadmap of actions over the next decade to tackle the climate crisis and international cooperation on data for development, external affairs minister S Jaishankar said at the Global South Summit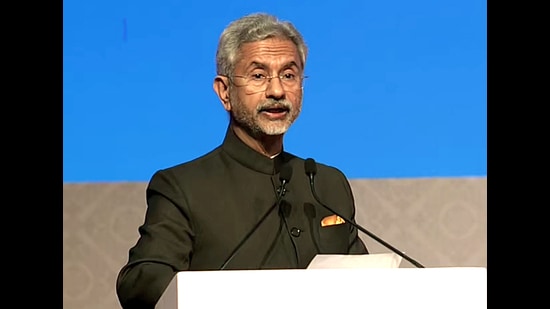 New Delhi: India's G20 priorities include a "Green Development Pact" with a roadmap of actions over the next decade to tackle the climate crisis and international cooperation on data for development, external affairs minister S Jaishankar said on Friday.
Addressing a session of the Voice of Global South Summit, Jaishankar reiterated that the priorities for India's presidency of the grouping of the 20 largest economies will be shaped in consultation with developing states, and listed other steps that the country intends to take to ensure food and fuel security and equitable development.
The virtual summit, a new initiative of the Indian government weeks after it took on the G20 presidency, featured 10 sessions spread over two days devoted to issues such as international finance, trade, health, education and foreign policy. India has said it will channel suggestions and ideas generated by the summit into deliberations at the G20.
"We would commit to drive a consensus on a Green Development Pact of the G20 Leaders, which will be a blueprint of strong actions for the next decade powering green development all over the world," Jaishankar said in his televised opening remarks at the session that was joined by foreign ministers of 12 countries.
The actions will include investments in sustainable lifestyle, leveraging green hydrogen for climate action, and accelerating progress on the Sustainable Development Goals (SDGs), he said.
India will also take up discussions on data for development as countries are at different levels of development and readiness to engage with data-driven innovations, Jaishankar said.
"We need international cooperation on data-related capacities, innovations and technologies, especially for the Global South, to further progress on SDGs and create opportunities for us all. To this end, we aim to focus on bridging the digital divide amongst countries through a multi-stakeholder approach," he added.
Other priorities listed by Jaishankar included working collectively for a new globalisation paradigm with a focus on vulnerable populations, joint efforts to address challenges to food and energy security and to ensure that the needs of vulnerable communities are met without delay, and work to bring down walls faced by young people in developing countries in accessing opportunities.
India will work with developing countries to share resources, development templates, experiences and knowledge base. India will also focus on strengthening global cooperation to address the threat of terrorism faced by many countries, which has increased due to emerging technologies, he said.
The G20 presidency is an opportunity for "India to articulate an agenda and for the Global South to show the way", Jaishankar noted. India will make reformed multilateralism and institutions a priority and take a "LiFE" (Lifestyle for the Environment) approach to climate action while keeping complementarities of the development agenda and climate goals at the centre.
Referring to Prime Minister Narendra Modi's remarks in the context of the Ukraine conflict that this is not an era of war, Jaishankar said this was about giving up the "us vs them" mindset and to work collectively.
"To many of us in the Global South, this sentiment strikes a very familiar chord. From decolonisation movements to resisting alignment in the face of a deeply polarised world, the Global South has always shown the middle path," he added.
Jaishankar said the Covid-19 pandemic had added to problems already faced by developing countries, such as unsustainable debt, unviable projects, trade barriers, contracting financial flows and climate pressure. The pandemic also exposed the "dangers of over-centralised globalisation" and unreliable supply chains, while the fallout of the Ukraine conflict further complicated the economic situation.
He emphasised the need to reform global bodies such as the UN, describing it as a "frozen 1945-invented mechanism" that is unable to articulate the wider concerns of its members.
"And the G20, reflecting the composition of its membership, has had its own particular focus. This is what we are seeking to change," he said.