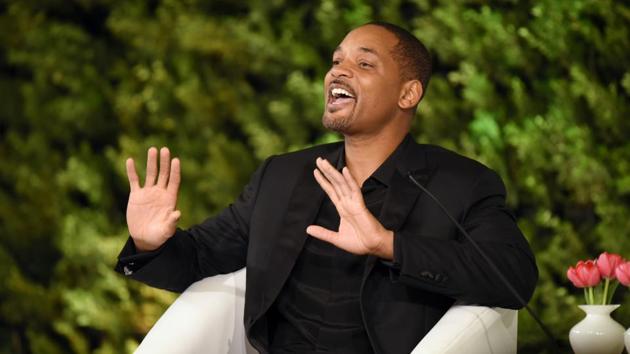 Will Smith at HT Leadership Summit 2018: The many faces of the Men in Black star
Hollywood star Will Smith, one of the most bankable actors in the world, left the audience in splits with candid stories from his life and film career at the 16th Hindustan Times Leadership Summit.
New Delhi | By HT Correspondent
PUBLISHED ON OCT 07, 2018 07:45 AM IST
Will Smith may be one of the world's most bankable movie stars, but his decision to turn actor wasn't exactly out of choice. When he did make up his mind that acting was what he wanted to do, the Hollywood star "failed" all the way to the top.
Smith, who celebrated his 50th birthday last month by jumping out of a chopper over the Grand Canyon, gained prominence as a rapper in the 1980s and then moved on to acting, with a starring role in the hit sitcom, The Fresh Prince of Bel Air.
"I was young; I was growing up... I didn't pay my taxes... They (Internal Revenue Service) come and they start taking your things. So my transition from music to acting wasn't exactly a choice. I was like, oh man, I need to do something to make some new money," Smith said to a burst of laughter at the 16th Hindustan Times Leadership Summit on Saturday.
"In the first three years of The Fresh Prince of Bel Air, the IRS was taking 70% of my money. I was still broke," he joked. The 'Men In Black' star said that having gotten a second shot, he decided he never wanted to be broke again. "I got really disciplined. I wanted to be the biggest movie star," Smith said.
He looked up the 10 biggest grossing movies and figured out a pattern. Smith said nine out of 10 of them had special effects and creatures and most of them had special effects, creatures and a love story. And just like that, he had the winning formula.
During the 1990s and the 2000s, Smith emerged as one of the world's most successful leading men with roles in films such as Independence Day and Bad Boys. His boxoffice streak of delivering eight consecutive films to have grossed more than $100 million in the US remains unmatched.
The lessons he learned along the way? "Fail early, fail often, fail forward," he quoted a popular saying. "You fail your way to the top... I have been lucky enough to embrace failure," Smith said about his success story.
The two-time Oscar nominee said this is possibly his 10th trip to India. "(I have) loved it here for a lot of years. The contrast was always so beautiful to me that at any street corner, you could cross a thousand years."
Towards the end of the session, the Hollywood star tried Bhangra, the Punjabi dance, by imitating the hand and shoulder gestures displayed Farhan Akhtar, the moderator of the session.
When asked if he had any plans for making his Bollywood debut, Smith said: "I am doing a show called the Bucket List... One of the things on the Bucket List was that I wanted to be dancing in a Bollywood sequence... I would love to do some work with Aishwarya (Rai Bachchan)."
He also paid tribute to legendary boxer Muhammad Ali, whose biopic – Ali – Smith starred in. "Playing Ali was the most formative time in my career. It changed me forever. Anytime you go that far into a character, a piece just stays with you. Nothing for Ali was ever above people and love. In our lives we put money and our products above people. Ali taught us that if you care for people you will have everything."
Smith has played the lead role in two other biopics, including The Pursuit of Happyness. "It is such a beautiful thing to have an opportunity as an actor to wear the skin of someone you admire so much," he said.
Close