Women divorced through triple talaq to get interim pension in Assam
The state government will also bring a law to punish men who abandon or desert (or divorce) their wives on flimsy grounds such as birth of girl child, health minister Himanta Biswa Sarma said.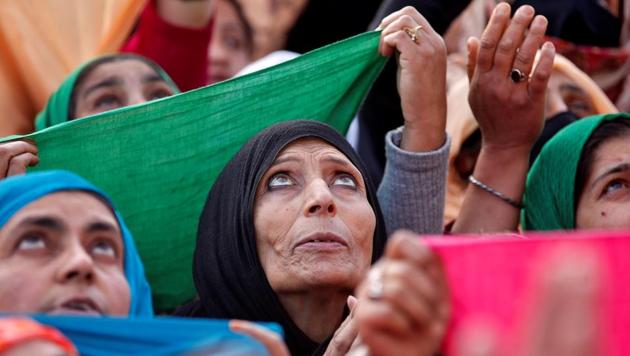 Updated on Jun 01, 2017 11:09 AM IST
Muslim women in Assam who have been divorced using the provision of triple talaq will be provided interim pension by the BJP-led Assam government as per a new policy.
Health minister Himanta Biswa Sarma disclosed this here on Thursday while informing about the changes made to the state's draft population policy announced last month.
The draft, which is being renamed as population and women empowerment policy, bars those having more than two children or marrying before legally permissible age from getting government jobs.
"There will be provision for skill upgradation of Muslim women divorcee to help in gainful employment and in the interim, such victims of triple talaq will be given family pension," Sarma said.
Divorcees and single women from other communities will also be given skill-based education and employment, but they won't get interim pension.
The BJP-led Centre has opposed triple talaq—a provision by which a Muslim man can divorce his wife by pronouncing the word talaq thrice—saying it impacted the social status and dignity of Muslim women, rendering them unequal and vulnerable.
The issue has come under criticism from various Muslim bodies, including the All India Muslim Personal Law Board (AIMPLB), while Prime Minister Narendra Modi has denounced the practice, urging Muslims not to view the issue through a "political lens".
Himanta Sarma said "steps will be taken to prevent and deter women from being abandoned or deserted (or divorced) by husband on flimsy grounds such as birth of girl child, etc. We will bring a law which will make it a punishable offence."
The changes have been introduced after getting feedback from public, NGOs and media outlets on the draft policy. Sarma said the government will try to introduce the new policy from August.
The women empowerment part was introduced in the new draft as there were suggestions that women could be discriminated against under the policy.
Besides barring those marrying before legally permissible age or having more than two children, the draft policy seeks to disallow those having more than two kids from contesting elections to local bodies.
The state government would also ask the Centre to amend the Representation of The People Act to introduce two-child norm for MPs and MLAs to be elected from Assam.
"Under specific circumstances and depending on case to case basis, birth of third child will not be a bar from seeking government employment as per the new changes incorporated," said Sarma.
Such circumstances include birth of twins or more during the second pregnancy, deaths of children, desertion of parents by children, etc.
"To have a third child, government employees and elected representatives of local bodies will have to take government permission, which will be given under very special circumstances," he said.
Once implemented, Assam will be the second state after Rajasthan to have rules separate from the National Population Policy, 2000.
Close Story