Yemen blast victim regains vision after eye reconstruction surgery in Kochi
May 10, 2018 11:34 AM IST
Having regained his eyesight Yemen national Islam Hussein, who also lost his hands in a mine explosion, will now go for palm transplant at the AIIMS.
Islam Hussein lost both his hands and eyesight in September last year after he accidentally stepped on a mine laid by warring groups while walking on a street near his home in war-torn Yemen.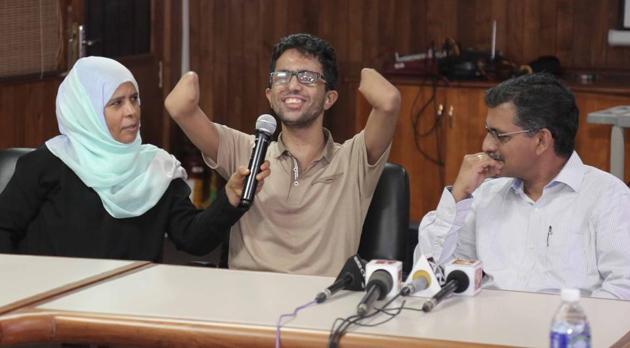 The 21-year-old man travelled to India with the hope of seeing again and doctors at the Amrita Institute of Medical Sciences (AIMS) in Kerala's Kochi have made his wish come true.
Islam got his sight back in his left eye after an eight-hour-long corneal transplant surgery at the hospital. When the first ray zipped in the 21-year-old could not control his emotions and hugged the doctors who performed the surgery.
"It is beautiful to see again. It is a rebirth for me. I had given up all hopes. Indian doctors gave me a fresh lease of life," Islam said.
"I was planning to become an engineer but after witnessing a medical miracle now I want to be a doctor. I want to treat people who lost all hopes," the resident of a small town Taiz in central Yemen added. .
The surgery that involved the complete reconstruction of Islam's left eye was led by a team of ophthalmologists led by Dr Anil Radhakrishnan.
"Islam's right eye was beyond any recovery as the structure behind the lens was badly damaged so we focused on the left eye. We reconstructed the shattered eye structures, conducted corneal transplant and reconstructed the eye again," Dr Radhakrishnan said and added that they were not sure whether the surgery would work.
"But it was joy all around when, a day after the surgery, Islam opened his eye and could see his mother in front of him," he said.
Islam's mother Dikshara Hussein said her son was good at studies but the blast last year changed his life. She said the blast severely injured the Class 11 student's hands and legs, disfigured his face and mangled his eyes. He was rushed to a hospital, but lost vision in both the eyes, she said.
Doctors advised that Islam's legs should also be amputated but his father refused to give up and moved him to a hospital in Egypt where both his hands had to be amputated below the elbow after an infection.
Doctors there were not capable of helping him further but one of them recommended treatment in India.
Islam and his parents arrived at in Kochi's AIMS in December last year after undergoing a plastic surgery on his foot in Rajasthan's Jaipur. Doctors at AIMS said a palm transplant would be more feasible after he regained his vision.
"When he came here his face was completely burnt and disfigured. The massive blunt injury damaged his eyes as if hit by a hammer. We gave priority to repairing the eye and regaining visual function," Dr Gopal S Pillai, the head of the hospital's ophthalmology department, said.