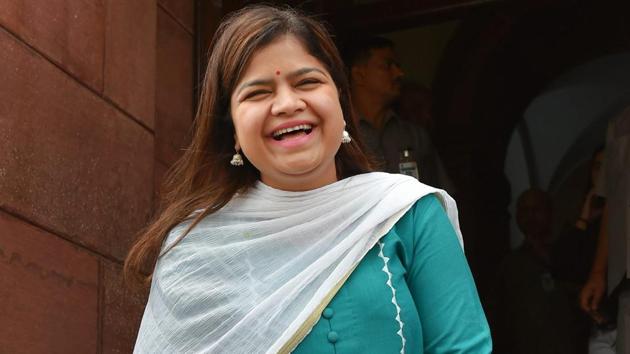 BJP dubs Mamata Banerjee 'U-turn didi' for changing stand on NRC
Bharatiya Janata Yuva Morcha chief Poonam Mahajan said BJP president Amit Shah's rally in Kolkata on August 11 will 'expose' West Bengal chief minister Mamata Banerjee's 'U-turn' on the issue of illegal immigrants from Bangladesh.
Hindustan Times, New Delhi | By HT Corredpondent
UPDATED ON AUG 03, 2018 10:34 PM IST
The Bharatiya Janata Party (BJP) launched a no-holds-barred attack on West Bengal chief minister Mamata Banerjee, calling her "U-turn didi" for changing her stand on the National Register of Citizens (NRC) in Assam and said it would expose the "anti-national" stand of the Trinamool Congress chief at a rally in Kolkata on August 11.
BJP's national president Amit Shah will address about 200,000 workers at Mayo Road , the party's youth wing president and Lok Sabha MP Poonam Mahajan said. The Bharatiya Janata Yuva Morcha is organizing the event, another effort by the BJP to expand its presence in the eastern state.
The state accounts for 42 Lok Sabha seats and the BJP won just 2 of them in 2014. Shah has set the party the target of winning 22 seats in the state in the next Parliamentary election.
The event is likely to intensify the verbal duel between the BJP and the Trinamool Congress, which erupted after the draft NRC was published this week. Names of 4 million residents of Assam, following doubts over their citizenship, were missing from the NRC.
Banerjee said this could lead to a civil war like situation and bloodbath in the country. Shah has described the issue as one involving national security and asserted that the NRC would be implemented in Assam.
"Banerjee supported NRC in 2005," Mahajan said at a press conference in BJP headquarters. "By 2018, she is speaking something that is non-Indian. We have given 'Chalo Kolkata' call for a rally on August 2011. We will expose her."
Responding to BJP's charges, TMC's Partha Chatterjee said: "BJP leaders are trying to create panic in Bengal by threatening to implement NRC here."
Close