TOPIC
Amit shah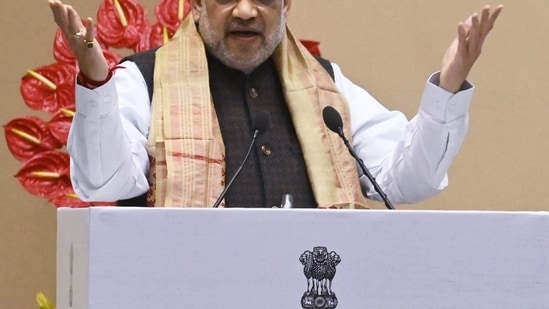 Amit Shah is the Union home minister of the current government. A close associate of Prime Minister Narendra Modi, Amit Shah was the party president before JP Nadda. Born on October 22 in 1964, ... read more
Union Home Minister Amit Shah has set foot in Karnataka for the second time this month to take part in various events in Hubballi and Dharwad, and in a massive roadshow in Kundgol area.

Updated on Jan 28, 2023 05:02 PM IST
On Saturday, Rahul Gandhi resumed his Bharat Jodo Yatra from Awantipora in Pulwama district, a day after cancelling it in Anantnag district after the party alleged security lapse.


Updated on Jan 28, 2023 10:43 AM IST
Union Home Minister Amit Shah will be arriving in poll bound Karnataka's Hubballi-Dharwad and Belagavi on January 28 to attend various events and take part in a road show organised by the BJP.

Published on Jan 27, 2023 07:48 AM IST
PTI | | Posted by Yamini C S
The J&K bureaucracy is safely ensconced in fortress secretariats and does not reach out to people. The traditional babu handling Kashmir in Srinagar or Delhi with convoluted wisdom of past still can't think beyond two political families of Valley despite clear-cut directives of Modi government.

Updated on Jan 19, 2023 01:39 PM IST
The twin terror attacks on seven innocents including two children of the minority Hindu community in Rajouri this month were orchestrated by Pakistan based Laskar-e-Toiba (LeT) group's chief operative Saifullah Sajjid Jutt from Shakargarh sector across the border.

Published on Jan 14, 2023 11:53 AM IST