Ajinkya Rahane stresses on mental adjustments in flexible Indian batting order
Updated on Sep 23, 2017 08:01 PM IST
Ajinkya Rahane has stated that India's batsmen need to make mental adjustments in Virat Kohli's Indian cricket team that is keen on experiments ahead of the 2019 World Cup.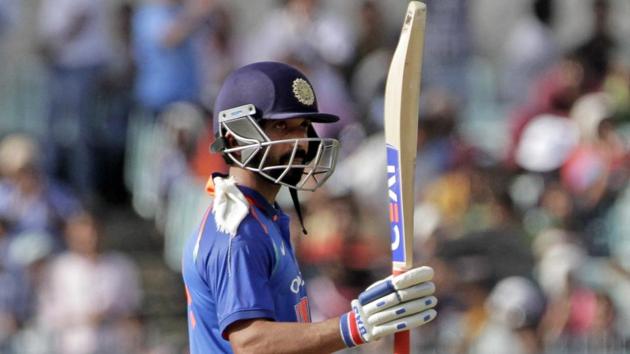 Ajinkya Rahane has emphasised the need for batsmen to make mental adjustments in Virat Kohli's Indian cricket team that is keen on experimenting and making the batting order flexible.
Speaking at the pre-match press conference before the start of the third ODI against Australia at the Holkar stadium, Rahane said, "It's completely mental. It's important to handle that situation and how you utilise that situation. If you adjust in mind, you can adapt anywhere."
India's middle order has seen changes since the Champions Trophy in 2017. Just ahead of the Sri Lanka ODI series, Virat Kohli had stated, "It is time to give players certain roles to get into the groove. It's all about giving roles to players, experimenting as a team."
Experimenting middle order
In the ODI series against Sri Lanka, Manish Pandey and KL Rahul were tried at No 4 and No 5 but they could not capitalise. Even Kedar Jadhav has struggled since the England series. However, Rahane was not too perturbed by their lack of contributions and said that the players could bounce back.
"The team management is backing them. It's important to give confidence to your players. As a professional, you score sometimes, you fail sometimes," Rahane said.
'Not thinking about future'
When it comes to experimentation, no one knows it better than Rahane. The 29-year-old, currently opening the batting, has also batted in the middle order. The right-hander could be pushed back in the middle order when Shikhar Dhawan comes back for the Bangalore ODI.
However, Rahane said in the current set-up of the Indian team, he is not too worried. "The Indian team has flexibility. I do my best whenever I get my opportunities. When Shikhar comes, we don't know what's going to happen. For me, it's important to give my all for the team," Rahane said.
Rahane, who chipped in with a gritty 55 in the Kolkata ODI, will be aiming for another good contribution and help India clinch the series against Steve Smith's side.