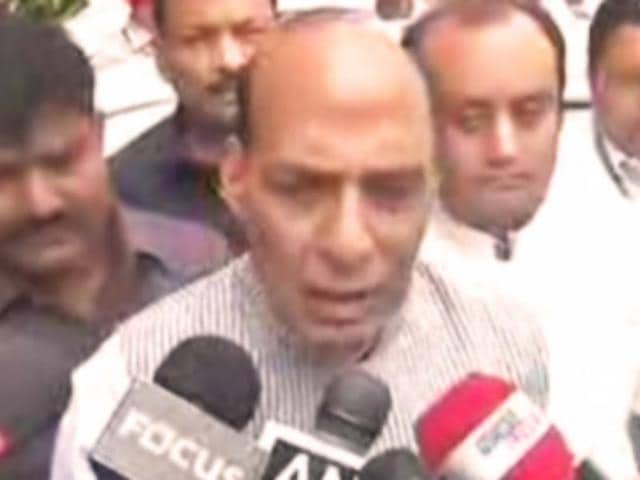 100 days of Modi Sarkar: Top 10 talking points since the NDA govt took over
To his admirers, Modi has made a great start. His critics say the new government's initiatives to script a turnaround tale in a country where the economy has hit a slump is nothing but old wine in a new bottle. HT takes a look at the top 10 controversies that have become a talking point. 100 Days of Modi Sarkar: Full Coverage
Hindustan Times | By Pratyush Ranjan
, New Delhi
UPDATED ON SEP 02, 2014 12:32 PM IST
To his admirers, Prime Minister Narendra Modi has made a great start.
His critics, on the other hand, say the new government's initiatives to script a turnaround tale in a country where the economy has hit a slump is nothing but old wine in a new bottle.
Whatever is the case, one thing is for sure the National Democratic Alliance (NDA) government has courted quite a few controversies in its brief stint.
As Modi completes 100 days in office in the first week of September, HT takes a look at the top 10 controversies that have become a talking point.

Also Read | Narendra Modi gets the mandate again, from readers

1. Rajnath protests, PMO backs him

Rajnath Singh's position in the Modi government and the Bharatiya Janata Party (BJP) became a matter of media speculation, as a series of reports claimed the Prime Minister's Office (PMO) has been clipping his wings, quietly.
Singh is a former chief minister of Uttar Pradesh and a two-time BJP chief who was instrumental behind Modi's projection as party's campaign committee chief and eventually its PM face.
While some reports said Modi was unhappy with some misdemeanor on part of Singh's son, the Union home minister said he would quit politics if anybody could prove that any of his family members was involved in any misconduct.
However, separate statements by the PMO and BJP chief Amit Shah ended all speculation about Singh's position in the government and the party.
The controversy came close on the heels of the BJP denying Singh's son, Pankaj Singh, a ticket to contest a by-election from Noida in Uttar Pradesh.
2. CMs versus PM: To avoid or not to avoid

Crowds booed Haryana chief minister Bhupinder Singh Hooda and his Jharkhand counterpart Hemant Soren in Modi's presence, fueling talk over whether there was a BJP design to undermine the CMs in the election-bound states.
Maharashtra CM Prithviraj Chavan too was heckled by BJP supporters, following which he refused to appear with the PM in Nagpur.
The Congress, which has reportedly asked its chief ministers to avoid sharing the stage with Modi, saw a pattern in the humiliation of opposition leaders.
The PM had recently unveiled a string of infrastructure projects in Jammu and Kashmir, Haryana, Jharkhand and Maharashtra – all opposition-ruled states going to polls later this year.
3. Tale of UPA-appointed governors

Vinod Kumar Duggal became the ninth governor appointed by the United Progressive Alliance (UPA) regime to quit since the NDA government came to power in May this year. He was the governor of Manipur.

Earlier, Sheila Dikshit's resignation from the Kerala Raj Bhawan on August 25 added fuel to a raging controversy over the fate of UPA government-appointed governors in the NDA regime.

Dikshit quit after being apparently nudged by the new government. The former Delhi CM's resignation came a day after her Maharashtra counterpart, K Sankaranarayanan, quit to protest his transfer to Mizoram.

Also Read | Government makes gradual, tough changes to fix a sputtering economy

Earlier, the NDA government had transferred Kamla Beniwal as Mizoram governor from Gujarat Raj Bhawan. When Beniwal refused to resign, she was sacked three months before the end of her tenure in October.

Similarly, Lt Governor of Puducherry Virendra Kataria was also sacked by the government.

Five other governors — MK Narayanan (West Bengal), Ashwani Kumar (Nagaland), BL Joshi (UP), BV Wanchoo (Goa) and Shekhar Dutt (Chhattisgarh) — had put in their papers apparently after they were telephoned by the Union home secretary.

V Purushothaman, the governor of Mizoram, had also resigned after he was transferred to Nagaland in July this year.

Uttarakhand governor Aziz Qureshi has challenged Centre's move to ease him out of office, bringing the controversy over removal of UPA-appointed governors under judicial lens.
Read More

4. Z-category security for tainted MLA Sangeet Som

The Modi government's decision to provide Z-category security to Uttar Pradesh BJP legislator Sangeet Som, 35, kicked up a political storm, with the Congress questioning whether a person "who is a threat to others" deserved the status.
In a police FIR, Som has been accused of making inflammatory speeches and uploading a video of a lynching that apparently fanned the Muzaffarnagar riots last year that left at least 60 people dead, most of them Muslims, and displaced 50,000.
The youngest of all the BJP legislators in UP, Som, who represents Sardhana assembly segment in Meerut, was guarded by five security men so far. As per the new security detail, Som will get about 30 guards as well as bulletproof vehicles.
Read More

5. Judges' appointment bill under scanner

Amid a debate over the appointment of judges in higher judiciary, Parliament passed two crucial bills providing for a new mechanism to appoint judges by scrapping the two-decade-old collegium system, a move some jurists said they would challenge in the Supreme Court.

The constitutionality of the Constitution amendment and National Judicial Appointments Commission (NJAC) bills was questioned and a batch of petitions filed in the Supreme Court argued that the bills interfere with the independence of the judiciary.

Also Read | A cabinet dominated by just one man

The petitions said the bills would give "unbridled power" to Parliament to regulate judicial appointments.

The apex court, however, decided not to intervene on petitions challenging the bill to change the system of appointing judges, saying it would be "premature".
Read More

6. Gopal Subramanium vs govt

Lawyer Gopal Subramanium ruled himself out of the Supreme Court race, accusing the government of "character assassination". In a nine-page letter to Chief Justice of India RM Lodha, the former solicitor general who had assisted the top court in the Sohrabuddin fake encounter case in which BJP chief Amit Shah is now an accused, withdrew his consent to be considered for a judge's position.

The controversy over his appointment had been brewing since the SC collegium headed by CJI Lodha recommended Subramanium's name for the position of an apex court judge.
On June 19, the law ministry cleared all the names but that of Subramanium, citing "negative" CBI and Intelligence Bureau reports.
Read More

7. Tussle over Leader of Opposition status

The controversy over the Congress being denied the Leader of Opposition post in Lok Sabha took a new turn after the Supreme Court suggested that an LoP was needed for making key appointments like the lokpal or the anti-corruption ombudsman.
As the largest opposition party in the Lok Sabha with 44 seats, the Congress has been demanding the LoP post, but citing advice from the government's top law officer, attorney-general Mukul Rohatgi, Speaker Sumitra Mahajan has rejected the claim on the ground that it did not have the requisite 10% seats in the House.

Read More

8. UPSC storm

The Modi government agreed not to test candidates over their English skills in the civil services preliminary examination, which was scheduled for August 24, to address concerns that the exam pattern was biased in favour of urban candidates.
But, it was not enough for the protesting UPSC aspirants who vowed to continue their almost month-long stir. They demanded that the aptitude test introduced in 2011 be scrapped.

Also Read | Tooning in to Modi's journey's so far in sketches
The government, however, blamed the previous UPA regime for the row and said that it had taken best possible steps it could have under the given circumstances.
Read More

9. Blame game over communal riots

Ruling BJP and opposition Congress have accused each other of pursuing a divisive agenda.

The Congress questioned the BJP over incidents of communal violence in states going to polls, such as Uttar Pradesh and Maharashtra. Congress vice-president Rahul Gandhi took centre stage over raising the issue in Parliament.
PM Modi's silence on incidents of communal flare-ups in several parts of the country was also questioned.
Read More

10. Smriti Irani's educational qualification

Smriti Irani was at the centre of a raging controversy over her educational qualification and a mismatch in the information provided by her in two election affidavits after taking charge as the human resource development minister.
When contesting the 2004 Lok Sabha elections, she mentioned her qualifications as Bachelor of Arts (BA), which she passed in 1996 from University of Delhi's School of Correspondence.
However, in her affidavit for this year's Lok Sabha election, the actor-turned-politician mentioned her educational qualification as: Bachelor of Commerce Part I, School of Open Learning (Correspondence), University of Delhi - 1994.
Read More

Hear PM Narendra Modi announcing his top 10 welfare schemes

100 Days of Modi Sarkar: Full Coverage
Close