Army firing in Kashmir: One more youth dies as clashes break out
Apr 13, 2016 11:50 PM IST
Despite restrictions, clashes broke out between people and security forces in Handwara and Langate on Wednesday, as protesters demanded immediate action against security personnel who fired on a mob, killing three.
Police teargas shells killed a young man in north Kashmir on Wednesday, the fourth civilian death in clashes with security forces in two days, as violent protests threatened to spread across the Valley.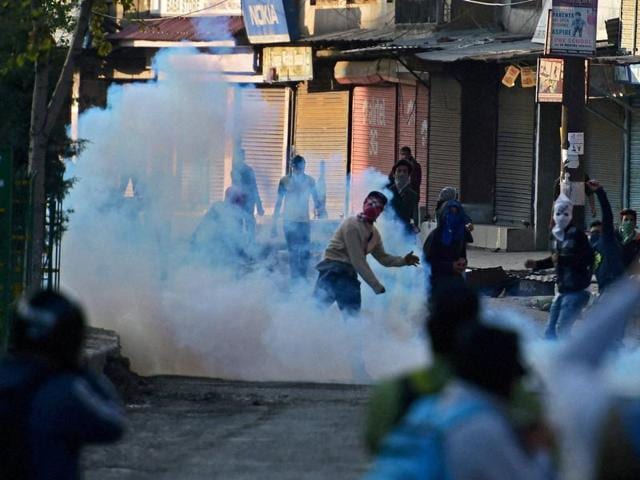 Authorities clamped a curfew in parts of Srinagar and Handwara but struggled to contain protests in Kupwara as thousands turned up at the funeral of three civilians who died in Tuesday's police firing –Mohammad Iqbal, 22, Nayeem Qadir, 21, and Raja Begum, 70.
The violence is a big test for newly sworn-in chief minister Mehbooba Mufti, who met defence minister Manohar Parrikar to seek a time-bound probe into the civilian deaths and said the shootings will have a "negative impact" on peace efforts.
Read more | Kashmir's Handwara under curfew after third death in Army firing
"I spoke to the defence minister. He assured me a probe will be initiated and the culprits will be punished… At the same time the family (of the victims) will be compensated. Such incidents should not happen in the future," Mehbooba said.
The violence began on Tuesday in Handwara – 85 kilometres from Srinagar -- when police fired on a mob that had gathered following allegations that an army personnel molested a local girl.
Iqbal, Qadir died immediately, while Raja Begum succumbed to her injuries on Wednesday. A day later, a police shell hit Jehangir Ahmad Wani on the head at Drugmulla in north Kashmir, killing him on the spot.
Authorities have suspended an assistant sub-inspector for "negligence of duty" and the army regretted the killings but it did little to quell the local upsurge of anger that brought back memories of the 2010 street protests across Kashmir against the government where over 100 people lost their lives.
Read more | J-K CM Mehbooba Mufti meets Parrikar, raises Handwara firing issue
Under attack, the army released a video of the girl where she allegedly denies the molestation charge. Police said they were trying to ascertain who shot the video.
"If you focus on the video released by us, it clears that there is no case of molestation. It is a malafide intent by some elements to malign the good image of army," defense spokesperson NN Joshi said.
The violence comes barely a week after a nationalism row at the National Institute of Technology in Srinagar, where non-Kashmiri students clashed with local pupils.
Pressure has mounted on the state government following an outpouring of social media support for the deceased, especially Qadir, who was a budding cricketer who participated in an under-19 national-level camp.
Photos of Nayeem at various cricketing events and with Kashmir's star cricketer Parvez Rasool went viral on social media.
Experts say the violence can widen the rift between the ideologically divergent coalition partners – Peoples Democratic Party and BJP – who rule Kashmir.
Opposition parties have criticised Mehbooba for being away from the state and separatist outfits have called for a shutdown in the Kashmir Valley.
"Three people died as a result of firing by security forces & what does the J&K CM do? She continues her self-promoting tour of Delhi. #Handwara .This is the same person who until a year ago would rush anywhere in the valley to shed contrived tears at the slightest provocation'' former chief minister Omar Abdullah wrote on twitter.
Read more | Handwara firing: NC, Cong, CPI(M) demand action against guilty
(With inputs from agencies)