Bihar turns dry as CM Nitish Kumar announces total prohibition on liquor
Updated on Apr 05, 2016 05:27 PM IST
Bihar joined states like Nagaland, Mizoram and Gujarat in enforcing total prohibition.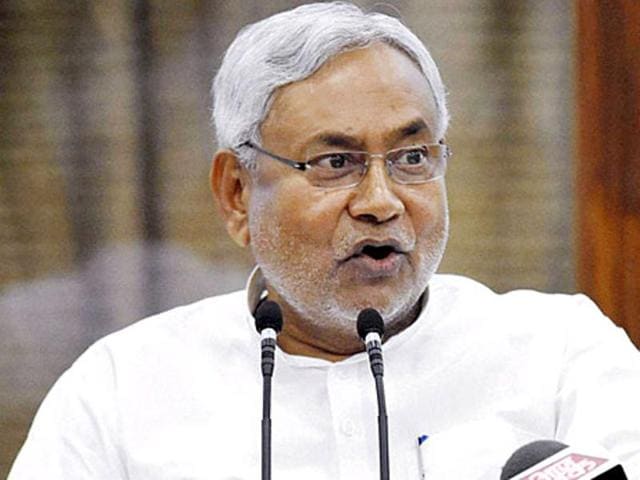 Bihar became a completely 'dry state' on Tuesday, banning sale and consumption of all kinds of liquor in a move seen as fulfillment of a poll promise to women by chief minister Nitish Kumar.
The ban includes Indian-made foreign liquor (IMFL), left out of the partial prohibition clamped on April 1.
Kumar's passionate pitch for prohibition citing the adverse affects of domestic violence and broken families besides economic and health costs had earned overwhelming support from women for the ruling Janata Dal (United) in last year's assembly polls.
He reiterated his commitment while announcing the ban.
"The decision on total prohibition has been driven by opposition of women to liquor and this measure is dedicated to them and their concerns," the chief minister said.
Bihar joined only three other Indian states -- Nagaland, Mizoram and Gujarat – to enforce a total ban on sale of liquor.
Read More | No words to thank: Poor women celebrate Bihar liquor ban
Kumar, who described the decision as historic, said the government will lose more than Rs 4,000 crore revenue annually but added "it is not a revenue-driven decision".
"People will now use the money invested in liquor to add nutrition to their plates, avoid disease and economic ruination. That offsets all revenue concerns," the chief minister added.
He said no hotel, bar or club would be allowed to serve drinks though army personnel have been exempt for the time being.
Sources said even a ban on toddy -- the poor man's drink -- looked possible but for the opposition of Lalu Prasad, who is believed to have said that the Pasis, the toddy-tappers' community, was aligned to his party RJD and the move could hurt the ruling alliance politically.
Read More | Bihar: Now, police, govt officials to take 'no booze' pledge
Kumar said the state will implement guidelines that allow consumption of neera, the drink derived from palm trees before sunrise. The same juice from palm trees acquires alcoholic properties after sunrise and is sold as toddy. Though consumption of toddy was not banned, it will no longer be sold openly in places like rural market places.
The state had earlier tried prohibition in 1977-78 during Karpoori Thakur's time but failed to implement it effectively.
Anti-liquor activists said the state will face a challenge in checking flow of liquor from illegal units and neigbouring states and nations like Nepal, Bangladesh and Bhutan.
Chief secretary Anjani Kumar Singh said consumption of liquor is now a punitive offence with a minimum punishment of a five-year jail term. The amended act stipulates up to seven year imprisonments for trade in liquor.
Observers feel that the decision could have been taken both for growing unrest among women against the partial ban and also due to its wide political ramifications as the rural populace were not happy with the concessions given on sale of IMFL in urban limits.
There was also stiff opposition in urban areas with residents resenting the opening of government liquor shops in their localities.
Personalise your news feed. Follow trending topics