Chhattisgarh: Maoists set ablaze 29 vehicles at iron ore mine
Updated on Oct 30, 2015 10:46 PM IST
Maoists on Friday torched 26 vehicles at an iron ore mine in Chhattisgarh's insurgency-hit Kanker district, a day after they had targeted a private operator's bus in Bijapur district last night.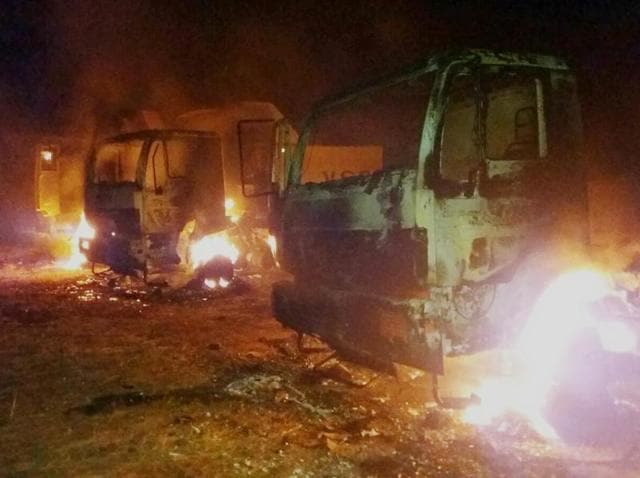 The outlawed CPI (Maoist) set ablaze 29 vehicles engaged for transporting of iron ores from Chargaon mines in Kanker district, about 200km south of Raipur.
There was however no report of any exchange of fire or the security forces being attacked in the region.
The Bastar inspector general of police SRP Kalluri informed that the armed rebels burnt 29 vehicles, including 24 trucks and three JCB machines.
"Additional forces have been rushed to the region and the security beefed up," he added. The ultras thrashed the drivers before setting their heavy vehicles on fire. Owing to terror, the drivers and helpers of the trucks fled from the area.
Maoists are reportedly opposed to iron ore mining in the area by a company.
Four officials of the company, including a general manager, were kidnapped by Maoists on April 1 this year from the Chargaon iron ore reserve. They were released the same day.
During the previous week, around 70 vehicles were set on fire by the Maoists in strife-torn Bastar zone.
On Thursday, the ultras torched a bus in Bijapur district after asking all passengers to get off the vehicle.
A day before, they set ablaze five trucks working for the railways near Geedam in Dantewada. As many as 35 vehicles deployed for road construction work at Tarlaguda in Bijapur were burnt down last Saturday.
(With inputs from PTI)